New York City, NY
— At the New York International Auto Show, Mazda celebrated 25 years of drop-top fun with a collection of MX-5s spanning three generations. From numbers 14 and 15 of the first generation to one-off concepts and specials, the full gamut of history was put on display.
Way at the back of Mazda's booth sat a preview of what's to come: A bare chassis for the next generation MX-5.
While not much was mentioned about the next generation model, a few tidbits were released to preview what's to come.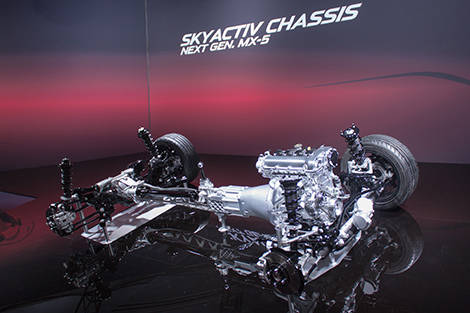 Photo: Mark Stevenson
The fourth generation MX-5 will undergo a rigorous weight loss regime, shedding some 100kg (220lb) versus the current MX-5. To put this in perspective, second and third-generation models
added
100kg of mass to the lightweight roadster. This weight savings will bring the MX-5 curb weight back to second-generation levels, under 1,100kg.
A renewed focus on efficiency at Mazda, through their SKYACTIV philosophy, will be readily apparent in the next MX-5, as well. Expect 1.5L and 2.0L SKYACTIV 4-cylinder engines to be used in the next generation car globally, though we will probably only get the larger of the two powerplants here in Canada. These engines will more than likely be mated to new SKYACTIV transmissions as well.
Lastly, the MX-5 will receive its own flavour of Mazda's KODO design language. One look at the current Mazda range of offerings should give lots of hints -- particularly the Mazda3 and Hazumi concept foreshadowing the next Mazda2 -- of where the automaker plans to go with the MX-5. For the first time since its inception, the MX-5 might end up looking quite visually aggressive.
No announcement has been made regarding when we will see the next MX-5 in the metal, though we have it on good authority you should expect something at the Tokyo Auto Show late in the year.