It's not often that an auto show lacks the excitement and enthusiasm that auto writers salivate over.
Sadly, the Pavlovian response for thrills of new sheet metal and inspiring new design wasn't at the forefront of the 2014 New York International Auto Show.
That said; there were a few gems in and amongst the variety of manufacturers on display.
Here are some show hits I found to be notable at the 2014 New York International Auto Show.
Jeep Renegade
It might be small, but this newcomer in the Jeep family is already carving a name out for itself, and it hasn't even hit the streets.
The Renegade is an all-new compact SUV from the North American carmaker. Actually, it's the brand's first entry in the small sport-utility vehicle segment.
It's zany in composition and quirky to look at, but by golly it's kind of awesome.
You'll get the choice of two fuel-efficient engines: either a 2.4L Tigershark engine with MultiAir paired to the segment's first 9-speed automatic transmission or a 1.4L MultiAir Turbo engine with a 6-speed manual transmission.
What's more, this capable off-road vehicle can come with up to 70 standard and available advanced safety and security features.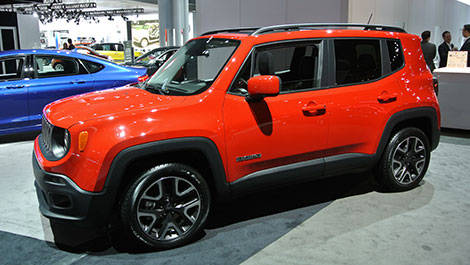 Photo: Alexandra Straub