Talk about opposite ends of the spectrum.
Two of Nissans
upcoming models were presented today at the Montreal Auto Show to give those in attendance a glimpse into the brand's near future.
One of the models shown was the stunning and freshly-sharpened
370Z
sports car. The other was the
Nissan cube
.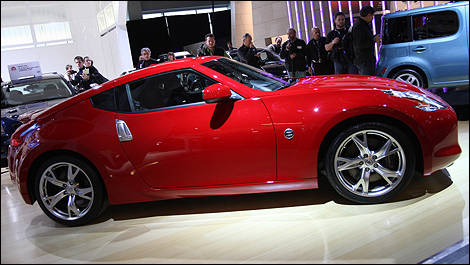 2009 Nissan 370z
The 370Z represents the latest from the brand's fabled 'Z' car lineup. It delivers a more potent punch than ever, thanks partly to a 332 horsepower V6 engine that's hooked up with a 7-speed automatic or six-speed manual transmission.
The interior has been updated and made more sophisticated and accommodating in terms of materials and layout, while the entire car has been slightly downsized, significantly restyled and carefully retuned for more excitement.
2009 Nissan Cube
The also-upcoming Nissan cube was responsible for starting many conversations within the crowd. The non-capitalized name is applied to an odd-looking machine that Nissan says is both stylish and functional. It gives owners an unconventional atmosphere packed full of unique storage solutions and comfortable seating for up to 5.
The cube is powered by Nissan's 1.8 liter, 122 horsepower four cylinder engine hooked up to a CVT or six-speed manual transmission. It will be available in base, 'S' and 'SL' trim levels when it goes on sale this spring. Nissan says that the cube will be available with a wide selection of optional accessories for customization.
photo:
Philippe Champoux, Matthieu Lambert
2009 Nissan 370Z