INVITATION is a compact hatchback concept Nissan says previews its next-generation B-segment offering. The new production model is due in Europe starting next year.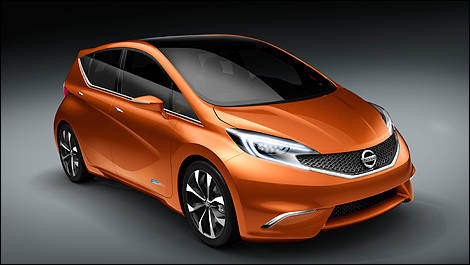 Photo: Nissan
It's not uncommon for press material to say things like, "The side of the car is dominated by a distinctive character line, which adds a powerful dynamism to its profile," but in this case, we'll have to agree. It looks pretty aggressive for a wee city runabout, helped by sculpted front and rear wings.
Nissan is planning for all models to be able to wear its "Pure Drive" badge, which denotes the brand's most fuel-efficient, lowest-emissions vehicles. Based on Nissan's V-platform, the concept features an advanced Around View Monitor (AVM), a technological first in the segment, which helps drivers reverse and parallel park. Theproduction model is slated to be built at the company's Sunderland, UK, plant. We'll have to wait and see whether it includes the concept's one-piece, fixed-glass roof.