Setting a new benchmark for impossible-to-remember nomenclature, Toyota unveiled the FT-Bh in Geneva, a small hybrid concept they say displays their next-gen "Keen Look" styling.
The FT-Bh gets logs an amazing 2.1L/100km fuel economy figure and less than half the typical emissions for a B-segment car, thanks to a new, long-stroke 1.0-litre, 2-cylinder, Atkinson cycle gas engine and an improved hybrid system.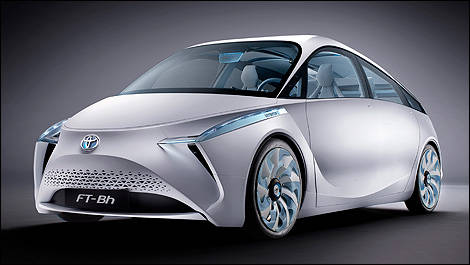 Photo: Toyota
A small fuel tank and the hybrid system's lithium-ion battery placed under the rear seat gives the car a low centre of gravity, and it weighs a mere 786 kg, through greater use of high-tensile-strength steel and high-expansion foam material inside. Toyota says the car, less than four metres long, will seat four grown-ups in comfort and offers a drag coefficient of just 0.235. For a little perspective, the Lamborghini Aventador has a drag coefficient of 0.33.
Exterior design merges a long roof seamlessly with the protruding windshield, and narrow pillars for better visibility, and distinctive headlamps integrated into the fenders. The interior uses the "tensional force" (Toyota's quotation marks, not ours) of tautly stretched fabric, which one assumes also helps with weight reduction.