Unveiled earlier this year at the Tokyo and Geneva auto shows, the production version of the Nissan Juke Nismo – first of a new Nismo model series –, will make its debut this weekend at the 24 Hours of Le Mans, together with the Nissan DeltaWing and Juke-R.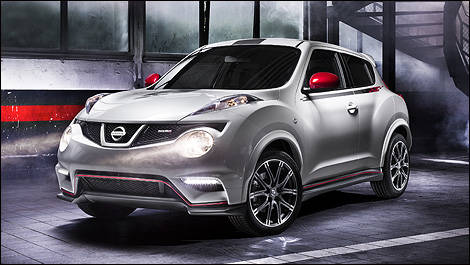 Photo: Nissan
The Juke Nismo is an interesting cocktail of sporty lines and off-road silhouette, mixed to the Juke's grabbing looks. The team at Nismo came up with a new aero package, giving the Juke a more dynamic appearance, some lower front and rear bumpers and modified grill and rear wing.
Under the hood sits a 1.6L, of which power figures remain mysterious.
The Nismo influence worked its way inside too, where the steering, the pedals, the gauges and the door lining were all made to enhance the sporty feel. Furthermore, the Nismo sport seats' wear black, red-upholstered, leather.
The Juke Nismo will be built in Nissan's Sunderland factory in the United Kingdom, with all the Juke family's other products; it will first be sold in Europe early in 2013, and later in the US and in Japan.