Nissan is committed to being a global industry leader in the electrification of mobility, so it was no surprise to see the Japanese automaker use the showcase of Tokyo Motor Show 2017 to unveil some new concepts and announce its foray into electric-car racing.
Nissan LEAF NISMO
Inspired by the next-generation 2018 LEAF, the LEAF NISMO concept weds power and the efficiency provided by electric technology with a sporty driving experience, a trademark of Nissan's NISMO cars.
Immediately apparent is the new concept's sportier, more aerodynamic exterior design. The interior black decor, meanwhile, is accentuated by red elements, and the driver's cockpit has been revised to maximize sensations when driving.
And that driving is enhanced by the sport suspension and high-performance tires that help improve road grip. The ProPILOT Assist, ProPILOT Park and ePedal systems (all shared with the regular LEAF) remove a lot of the stress on and tasks required of the driver.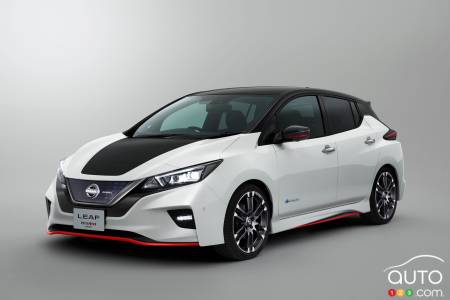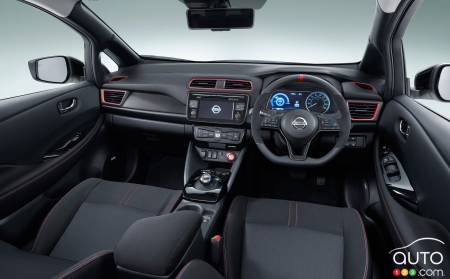 Nissan IMx
Perfect personification of Nissan's Intelligent Mobility guiding concept, which seeks to attain zero emissions and zero road accidents in the near future, the new electric crossover concept offers a range of over 600 km and can be entirely self-driving.
This last capability is permitted by the ProPILOT system, which here attains its highest evolution to date. Once activated, it stows the steering wheel away within the dashboard and reclines all the seats to provide occupants with more space and comfort. A single push of a button can bring the setup back to manual mode.
The autonomous-driving capabilities don't end there: the Nissan IMx can park itself and function on its own even with no driver inside. What's more, high-efficiency electric motors help deliver 429 hp and 516 lb-ft of torque to the four wheels. The battery has been redesigned to provide better energy density.
Design-wise, the new interpretation of Nissan's V-Motion grille that adorns the front, the pearl-white body and the contrasting vermilion red elements all serve to evoke traditional Japanese kinomos. Inside, a woodgrain-patterned display stretches all around the cabin. Above it in front sits a panoramic OLED screen that, through the use of artificial intelligence, can be controlled via hand gestures or even eye movements; as a result, the cabin features far fewer physical commands.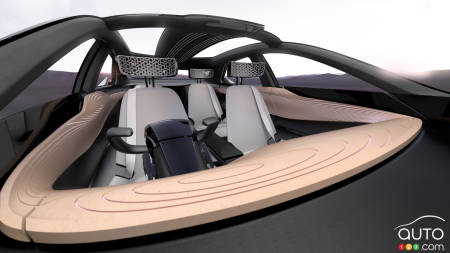 Nissan Canto
Here, in fact, we're referring not to a concept car but to a… sound. That's right, Nissan has revealed what its future electric vehicles will sound like, canto being a latin word for "I sing". It is actived at speeds up to 20 or 30 km/h, depending on market requirements, and varies depending on whether the car is accelerating, slowing or backing up.
The primary purpose of course is to alert nearby pedestrians and cyclists, and to enrich the urban sound environment. Nissan made assurances that the sounds produced will not be overly disturbing for pedestrians or residents.
Formula E
Finally, Nissan also used the occasion of the Tokyo show to make a major announcement: beginning with the 2018-2019 season, Nissan electric cars will participate in the Formula E world championship, which made its initial Canadian stop this past summer in Montreal. The company feels its participation will help promote its message of intelligent mobility.