DETROIT, Mi -
Like a delicate blade of green grass pushing up through the dreary, grey January landscape, there was a spark of hopeful optimism during this year's
Detroit Auto Show
.
Since the economic meltdown of 2009, the NAIAS had gone from the "place to be" on the spectrum of auto shows to one with a dreary sense of impending doom filled with hostile media.
While the city itself is trying desperately to reinvent itself, promoting a vibrant artistic and musical culture, and with the refurbishment of areas like Brush Park with its glorious, post-Depression era mansions -- its commitment to urban renewal -- Detroit is once more feeling like the Motor City.
The vibe on the show floor was positively energetic. The fever pitch surrounding the
Corvette C7 reveal
reached near-frenzy, and didn't let up for the duration of the show. It was difficult to find an opportunity to photograph the car, so swarmed was it by clamouring media and Corvette admirers.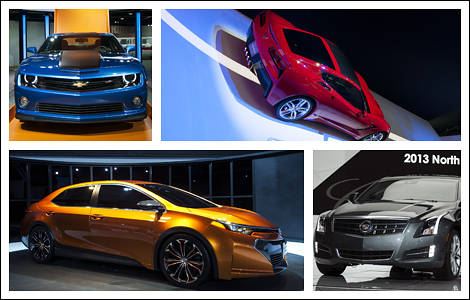 Photo: Nathan Leach-Proffer/Auto123.TV
Ford's press event was held in the Joe Louis stadium, and it was nearly filled to capacity. Of the 5,212 media reported to be at the show, probably 90% were at the unveiling of the Transit Connect Lineup and the introduction of their new
Atlas pickup truck
.
The coveted Car of the Year, and Truck of the Year trophies were awarded to the Cadillac ATS and Dodge Ram respectively -- both North American manufacturers.
The North American International Auto Show (NAIAS) has long been the pinnacle of the auto show circuit, and a barometer of how the industry itself is faring.
"It's clear that the industry is back and that the global manufacturers have saved their best for Detroit," said NAIAS Chairman, Jim Seavitt. "You walk on the show floor and immediately sense a renewed feeling of confidence in the auto industry."
It was an infectious feeling that quickly spread to all in attendance. Gone were the scowls of snarling media jostling for a seat at the press events. Instead, there were smiles and greetings, an atmosphere of congeniality and genuine excitement over some of the unveilings. Of the 59 vehicles introduced, nine were making their North American debut.
After several years on life support, it does appear that the auto industry is recovering and showing signs of vital health. Executives spoke of their rising sales numbers after the disastrous recession, and many were boasting of all-time record sales.
The buzz and clamour over the new Corvette, and exotic brands like Maserati and Bentley, as well as the lingering "oohs and ahs" over the newly revised
NSX
proves that the public is ready to embrace the luxury vehicles that took such a hit during the economic meltdown.
Welcome back Motor City, we've missed you.