Mr Letourneau is arguably Canada's best-known car guy these days. Having been Canada's Worst Driver's Performance Driving Instructor for seasons 3 through 6, he has proven and demonstrated abilities and knowledge that transcend levels of driving skills or a lack thereof.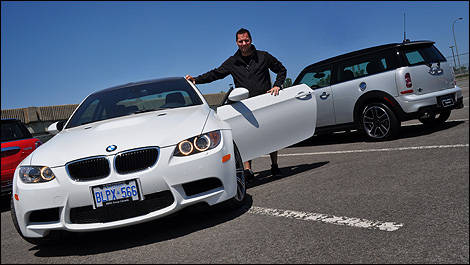 Photo: Mathieu St-Pierre/Auto123.com
In fact, Phil's extensive experience and good-guy demeanour secured him this same position for season 7 on one of the highest-rated shows on Discovery Channel Canada. Recently, he has also been appointed as BMW Canada's Chief Driving Instructor. Things are going well, for sure.
These two titles somehow fit on his business card, which also includes Chief Instructor for the Jim Russell Racing School and Principal Instructor for the Ferrari Driving Experience. He orders 8'x11' tiles that neatly fit in most backpacks. When you're good, you're good.
Phil is a former race car driver who started out young, and like most pro drivers, was baptized on a Go-Kart track. In his short yet impressive career, he competed in various series including Formula 2000, Champcar Light, Formula Renault, Touring car, Formula Atlantic, and Daytona Prototypes. Throughout these many classes, Phil landed on the podium on over 40 occasions out of roughly 150 races. One of his first big gigs, you might remember, was being one of the pros on Discovery Channel's Star Racer television series a few years back.
On tour with BMW xDrive and MINI Get Away Tour, I caught up with the man himself to talk about the business and life in the fast lane.
Here's how the "interview" went down:
Matt:
Congratulations on your latest achievement. Do you suppose job offers will ever stop coming in?
Phil:
Honestly, I'd almost like it if they stopped coming, but I've received a few more. Actually, I've signed on for another project. I can't tell you more about it for the moment, but you'll be among the first to know.
Matt:
Can't wait to hear about it! You're only 30-something years old and already your resume has more pages than a typical car magazine. So far, would I be correct in assuming that being an instructor is what you were meant to do?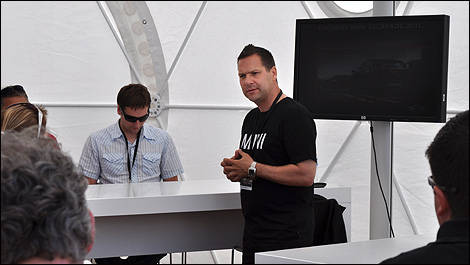 Photo: Mathieu St-Pierre/Auto123.com