Porsche's first EV will start production this coming September, the company has confirmed. The first Porsche Taycan cars should reach customers before the end of the year.
The debut of the production version of the Taycan is a big deal not just for Porsche but for the industry. For starters, demand has been massive and has obliged the automaker to adjust its production targets before assembly even begins.
A few weeks ago we reported that production of the Taycan will be doubled for the first year because of overwhelming interest. Porsche now wants to build 40,000 units of the EV instead of 20,000 as originally planned.
Frankfurt
With production of the final version of the model set to begin in September, we can conclude that the Taycan production version will likely make its in-the-flesh debut at the Frankfurt auto show in the fall. Porsche has not confirmed this, but it is saying deliveries to customers will begin before the end of the year.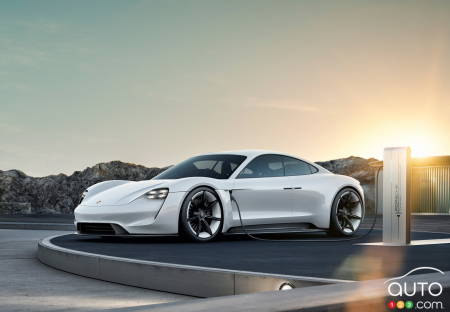 Performance
This being a Porsche, the Taycan will deliver strong performance, EV or no. Consisting of two electric motors, the powertrain will combine to give the car a total output of 600 hp. Range is estimated to be just over 500 km, and Porsche says it will take just 4 minutes to recharge the battery pack sufficiently to gain back 100 km of that range.
That last bit of information is likely to please many potential buyers of the model.
If you're wondering about acceleration, the Taycan can go from 0-100 km/h in only 3.5 seconds.
Other models
The Taycan may be the first electric Porsche ,but you can be sure it won't be the last. Already, we know to expect a more "family-focused" version of the model, called the Taycan Cross Turismo. It should be ready for 2021. We've also learned of the company's plan to go ahead with an all-electric version of its popular Macan SUV.
That last one could be the most explosively popular Porsche EV yet.