We published an article yesterday mentioning that a TeamSpeed forum member had already ordered his new Panamera Turbo S, hinting at an imminent unveiling. The wait has thankfully been short: Porsche revealed the new car's specs today. As expected, sprightliness and a heavy list of standard equipment are on the menu.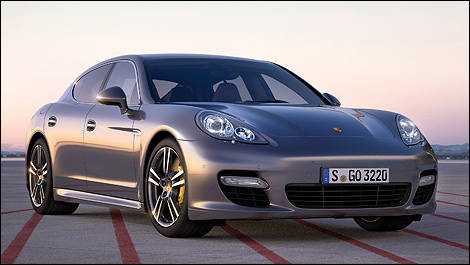 Photo: Porsche
With regards to numbers, the Turbo S will deploy an estimated 550 hp, 50 hp or 10% more than the Turbo variant. Torque has been bumped up from 516 to 533 ft-lb and can also be momentarily boosted to 590 ft-lb.
Although the 4.8-litre V8 is friskier, Porsche says the new variant will be as fuel efficient as the Turbo, thanks to light titanium-aluminum turbine compressor wheels, a polished ECU and a start-stop system.
Featuring Porsche's seven-speed, dual-clutch PDK transmission, the Panamera Turbo S can surge from 0 to 100 km/h in 3.8 seconds en route to top speeds of 306 km/h.
Porsche Dynamic Chassis Control, Porsche Torque Vectoring Plus, the Sport Chrono package with adaptive suspension and a sport exhaust system are all included at no extra charge.
Style-wise, 20-inch wheels, a wider rear track, side skirts and an adaptive spoiler set this model apart from the rest of the Panamera fleet.
The Turbo S will appear at the New York Auto Show from April 22 to May 1. Canadian pricing has not yet been announced.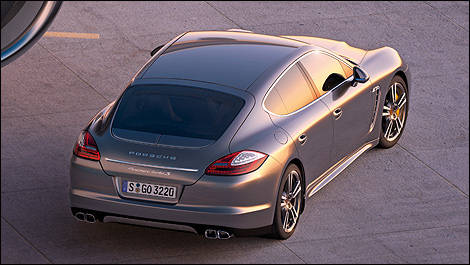 Photo: Porsche