The Auto123.com team is delighted to announce that it will once again be competing in the Rallye international vert de Montréal, from September 28th through September 30th behind the wheel of a 2012 Porsche Panamera S Hybrid.
Last year,
Auto123.com teamed up with Porsche for the first time
, piloting the
2011 Porsche Cayenne S Hybrid
and managed an 11th place finish after the weekend was up.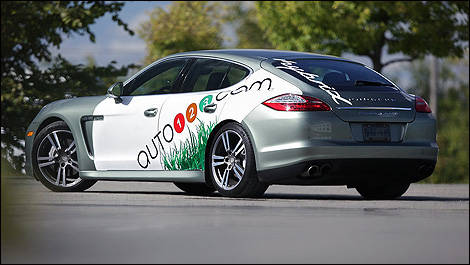 Photo: Philippe Champoux
The event, unique in North America, is part of the FIA's international Alternative Energies Cup, which has been held for the last six years in 10 countries on four continents.
Olivier Delorme and Emilie Asselin-Mercier (covering the event for Auto-Venus.com) will join forces and represent our team for the 600-km event where precision is key.
The Porsche Panamera S Hybrid will be up against some pretty stiff competition against the likes of the
Toyota Prius Plug-in
(as well as the Prius c),
Lexus CT 200h
-- both winners in the 2011 Rallye international vert de Montreal --
Mitsubishi i-MiEV
and even propane-driven GMC Sierras and an F-150.
Registered vehicles will be split into several classes including hybrids, EVs, biofuel and diesel, as well as weight categories (car, SUV, truck, prototype, etc.).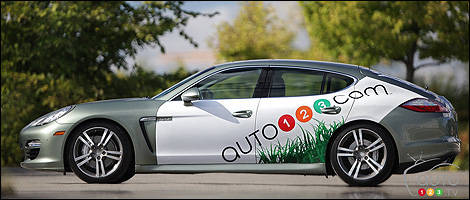 Photo: Philippe Champoux
The event starts the evening of Friday, September 28th as companies like Add Energie, Hydro Quebec and Circuit Electrique host booths on McGill College in downtown Montreal. When the rally begins on September 29th, there will be three circuits per day, each approximately 60km in length, for the drivers to complete with strict restrictions and rules to follow. McGill College Avenue will serve as both the start and finish line throughout the weekend.
Throughout the weekend, Auto123.com will publish updates of the rally experience, and the results of the rally will be posted early next week. Stay tuned for the trials and tribulations of Olivier and Emelie as they embark on their Green Rally adventure, and follow them on Twitter throughout the weekend!
Émilie Asselin-Mercier:
@autovenus
Olivier Delorme:
@odelorme
2012 Porsche Cayenne S Hybrid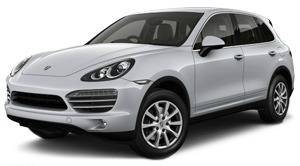 2012 Porsche Cayenne S Hybrid
2012 Porsche Panamera