Marc Landreville, the defending champion of the Drift Mania Canadian Championship (DMCC), started the 2013 season in Montmagny on a weird note. With his Nissan 240SX S14 suffering from serious engine problems during the practice sessions, he had to find another car to qualify for the competition. Luckily, Landreville's good friend and Pro Am driver, Jonathan Guitard, agreed to share his own Lexus SC400.
Talk about a contrast: one has right-hand drive, and the other has left-hand drive! Needless to say Landreville had to make a few adjustments. Then again, "it's still a car," he pointed out.
At the end of the day, the Montreal-based drift expert missed the top of the podium by a step. However, that was good enough to earn him precious points entering the second round of the 2013 DMCC next weekend in St. Eustache.
I had a chat with Marc Landreville after the event, and he kindly answered all my questions.

Marie-Laurence Paquin (MLP):
So Marc, how did you wind up here?

Marc Landreville (ML):
For as long as I can remember, I've always been a huge fan of rear-wheel drive cars like Nissans and Mazdas. I used to revere guys like Marco Santos and Haig Kanadjian, so I decided to buy my own Nissan.
I took part in my first amateur comp in 2008 with a Nissan Skyline GTR that was riding on 15" winter tires -- and I finished in second place! A while later, I entered a Pro Am event, and ended up third. The judges immediately elevated me to the Pro Class, and the very next day I was drifting my way to second place. I've been doing it ever since.
MLP:
As the defending champ, do you feel some extra pressure this year?
ML:
I'm not stressed, if it's what you're asking. I'd like to repeat, obviously. I also have other projects for this season, like participating in a few rounds of the U.S. Formula Drift Championship. Now, the rules are not quite the same, and neither is the budget. I was thinking about four rounds, but my car wasn't ready on time, so I will enter only two: one in Wall, New Jersey, and another late in the season in Irwindale, California.
MLP:
What's driving you to take part in the Formula Drift Championship?
ML:
I want to see how I stack up against other drivers and perform on other tracks. Of course, because of my sponsors and all, I will take part in every round of the DMCC this year.
MLP:
Who will be your toughest opponents in 2013?
ML:
Good question. A number of drivers are benefiting from new cars. Guys like Pat Cyr, Dave Briggs, Francis Tassé, Mike Pollard, and Jeff Laflamme will certainly put on a great show!

MLP:
Were any modifications made to your car over the winter?
ML:
Not really. Except for regular maintenance work and some little upgrades here and there, there's nothing major to report. My team and I will instead get busy on a Mazda RX-7 for next summer, so my Nissan will go up for sale at the end of this year.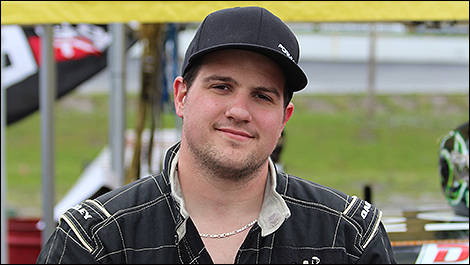 Photo: Joel Couture