Are you aware that Volkswagen is planning to bring its mighty Golf R to Canada? This unit towers above the
Golf GTI
in terms of raw performance, and features VW's 4MOTION all-wheel-drive capability to ensure its 256 hp and 243 lb-ft of torque aren't wasted on madly spinning front wheels.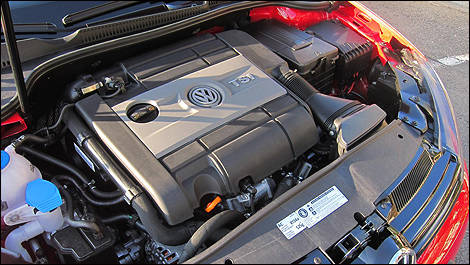 2013 Volkswagen Golf R (Photo: Rob Rothwell/Auto123.com)
The
Golf R
is equipped with special performance brakes and re-engineered suspension to ensure that it turns and stops as well as it goes. The Canadian arrivals, of which there will be only 500, will all be equipped with six-speed manual gearboxes.
I had the opportunity recently in France to take the Golf R for a spin along the Mediterranean Coast and simply didn't want to give it back. The flaming red four-door version I drove was equipped with a six-speed DSG gearbox, which elicited beautiful popping sounds from the turbocharged 2.0-litre four-banger while activating a new gear in a fraction of a second.
The twin exhaust emits a refined but performance-oriented growl that's as sweet as any high-priced after-market exhaust kit, and the chrome twin tips protruding side-by-side amidships impart a race-ready appearance that instantly distinguishes the Golf R from the GTI.
The fortunate 500 who seize ownership of a Golf R will undoubtedly enjoy its sublime, razor-sharp steering but they'll have to wait until April or so before it's on our turf. Pricing has been pegged at $39,675, or roughly $4,000 above a fully equipped GTI.
I can't wait to get my hands on a Golf R this side of the Atlantic for some serious road testing. Actually, any side of the Atlantic is fine with me!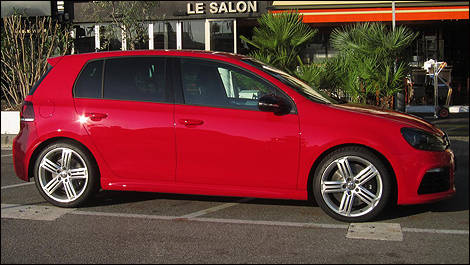 2013 Volkswagen Golf R (Photo: Rob Rothwell/Auto123.com)
2013 Volkswagen golf