Canadian racers competing in the 2014 Dakar rally raid suffered serious mechanical problems.
Quebecers David Bensadoun and Patrick Beaule sadly were forced to retire on the fourth day of the Dakar rally raid in Argentina.
After a difficult start to the event, their Range Rover Desert Warrior 3 suffered terminal differentials failures on a stage.
"We are stuck in the middle of nowhere with fatal diff failures. It cannot be fixed here. There's nothing we can do now. It's very, very disappointing", said Bensadoun.
Meanwhile, 63-year-old Matt Campbell of Calgary, Alberta also hit problems on the fourth day of the grueling event.
Campbell - the boss of one of Canada's largest agriculture and construction equipment networks – suffered a clutch failure on his JIMCO car and was forced to stop.
He was fortunately rescued by the members of the assistance team and made it to finish late in the day. He is still in the race.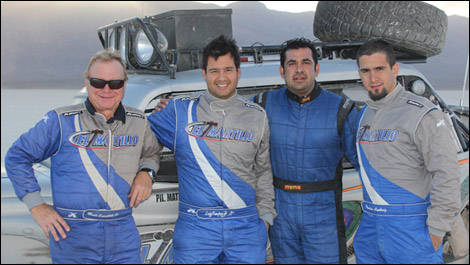 Matt Campbell, Luis Ramirez, Carlos Olmoz (assistance-truck driver) et Nicolas Ambriz (Photo: El Martillo Racing)