Six-time North American rally champion Antoine L'Estage kicked off his 2014 season with a second place at the Sno*Drift Rally, round one on the Rally America calendar.
The Canadian led early in the competition, as both he and his rival Dave Higgins battled typical rally misfortunes such as punctured tire for L'Estage or overheating issues for Higgins.
But Higgins eventually prevailed.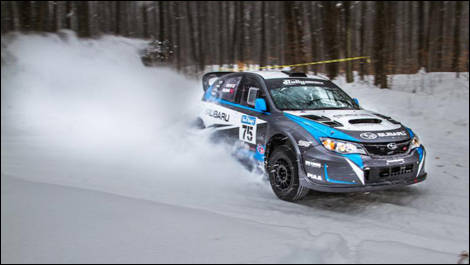 Dave Higgins, Subaru Rally Team USA (Photo: Alex Haugen)
"Last year Antoine hurt us really bad when he beat us on the last stage at Sno*Drift," remembered Higgins.
"These difficult conditions can change so quickly and you never know what you are going to get.  That just makes me pleased to set the year off and get the points in the bag."
Driving "Crazy Leo" Urlichich's famous orange Subaru, Canadian Alexandre Béland rounded out the event in a very respectable fifth place overall.
Andrew Comrie-Picard finished third in the two-wheel drive category.