Antoine L'Estage (St-Jean-sur-Richelieu, QC) and Alan Ockwell (Toronto) of the Yokohama Canada Rally Team won the 2014 Rallye Baie des Chaleurs in their first event together. The two built a lead early on the first day and managed their advantage to a record sixth victory at the second round of the Canadian Rally Championship.
"This is very good for the championship," said L'Estage. "It was a good event with just a few minor problems which the crew was able to fix without any issue. My Yokohama tires were perfect. The goal this year is to win a seventh Canadian rally championship and set a new record."
L'Estage and Ockwell had worked together at the regional Rallye Saguenay, but Baie des Chaleurs was their first true test at full speed in competition. The team quickly found a strong pace and distanced themselves from the competition. 
Alexandre Béland (Val d'Or, Que.) and Lyne Murphy (St-Constant, Que.) set a strong pace together, carving out a second place finish in their 2007 Subaru Impreza STI. While Murphy has a number of podium finishes with other drivers, this weekend's result is a career-best with Béland.
The two had to fight through a variety of problems, including a small coolant leak, idle problems and reduced power thanks to a boost leak.     
"We're happy," said Béland. "This weekend was a lot of hard work, but we're very happy to have done so well in spite of the problems.
Third place went to Joël Levac and Stéphanie Lewis of Rivière-Beaudette, Que. The two debuted their new Prodrive MINI which was originally campaigned in the World Rally Championship. Prior to the event Levac insisted the goal was to increase his experience with the new car and that finishing position was a secondary consideration. The two last competed in a round of the Canadian championship two and half years ago.
"I said to Stéphanie that the main goal was to better learn how the car drives," said Levac. "I didn't want to make any mistakes or know what position I was in and feel encouraged to push harder. I haven't been in a car for a long time, so I want to be smart about how hard I push."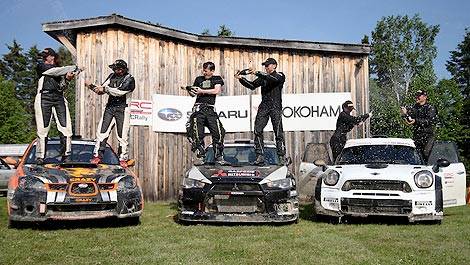 Podium ot the Rally Baie des Chaleurs 2014. (Photo: Maxime Poirier)
Two Wheel Drive action was full of excitement. Simon Dubé (Jonquiere, QC) and Philippe Poirier (St-Rédempteur, QC) struggled early in the event to find a winning pace. However, their rivals pushed too fast, and suffered mechanical and electrical problems. Dubé and Poirier moved into the lead late in the event. The two were competing together for the first time. 
"We drove consistently and had to be patient," said Dubé. "We had to be patient and it worked out for us. We had an almost flawless event. Philippe is a very good co-driver and I have to thank him for racing with me."
Boris Djordjevic and Leanne Junnila of Calgary won the Production 4WD class, finishing 11th overall.
Pat Richard (Squamish, BC) and Nathalie Richard (Halifax) of Subaru Rally Team Canada were absent from the event after Pat suffered and injury leading up to the rally and was unable to compete.
The Canadian Rally Championship is comprised of six events held nationwide in a season that extends from February to November. The series is presented by Subaru Canada, supported by Yokohama Tire Canada and features a contingency program from Subaru Canada. The Canadian Association of Rallysport (CARS) is the official sanctioning body for rallying in Canada.
Rallye Baie des Chaleurs Final Results

1. Antoine L'Estage - Alan Ockwell - two hours, five minutes, 38.1 seconds
2. Alexandre Béland - Lyne Murphy - 2:11:39.1
3. Joël Levac - Stéphanie Lewis - 2:11:57.5
4. Jean-Sebastien Besner - Yvan Joyal - 2:14:28.4
5. Sylvain Vincent - Simon Vincent - 2:16:0.7
6. Maxime Labrie - Robert Labrie - 2:18:42.8
7. Steeve Hobbs - Jean-Mathieu Tremblay - 2:19:45.0
8. André Leblanc - René Leblanc - 2:20:14.5
9. Frank Lognay - Ludovic Lognay - 2:28:16.6
10. Mathieu Leblanc - Alex Litalien - 2:30:11.2