Antoine L'Estage and his new co-driver, Karl Atkinson drove their Mitsubishi Lancer Evo X to victory in the third round of the 2013 Canadian Rally Championship.
The win was L'Estage's seventh at the event and his 40th national victory in North American rallying. He won 16 of 21 stages on the rally and ended with a margin of victory of one minute, 18 seconds over Patrick Richard in a Subaru Impreza WRX STI.
Richard suffered differential and brake problems early in the event and could not make up enough time on L'Estage, despite winning the last three stages.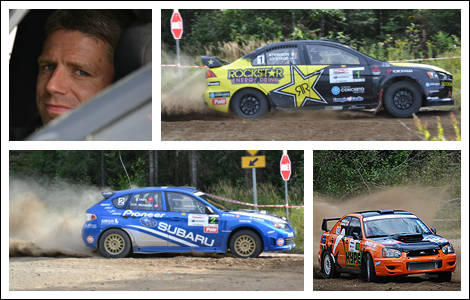 Photos: René Fagnan
With half of the Championship now complete, Richard and Subaru Rally Team Canada has 56 points against L'Estage and Rockstar Energy's 45.
A well-deserved third place in the event went to Max Riddle of Vancouver and Welsh co-driver Darren Garrod, a strong finish for the young driver.
The team benefitted from the retirement of Steeve Hobbs who was running in third place until a spectacular crash on Friday night, and the travails of Maxime and Robert Labrie who took over third from Hobbs but dropped far down the order with a flat tire and subsequent suspension damage on Saturday morning, eventually battling back to a gallant fifth overall in their Swap Shop-prepared Subaru WRX.
Fourth overall went to Simon Losier and Brian Maxwell in a clean and measured run, and local favorite Marc Bourassa and Daniel Paquette rounded out the top six with their own Swap Shop Subaru WRX.
The two-wheel drive competition saw numerous lead changes and close margins during the event. Ultimately, the father-daughter team of Jeffrey and Emily Dowell in a Mitsbishi Lancer took the top rung on the two-wheel drive podium and first in Production two-wheel drive, after the Ford Fiesta of François Gauvreau and Guillaume Roussin, crashed on Saturday morning.
The Canadian Rally Championship presented by Subaru and supported by Yokohama now moves west for the next two rounds. The Pacific Forest Rally is set to take place in Merritt, British Columbia on the 4th and 5th of October, and will be a crucial round for all teams' championship hopes.
Final Results Rallye Défi 2013:

1) Antoine L'Estage - Karl Atkinson (Mitsubishi Lancer Evo.10) - 1h33'48,7"
2) Patrick Richard - Robert Fagg (Subaru Impreza WRX) - 1h35'07,0"
3) Max Riddle - Darren Garrod (Subaru Impreza WRX) - 1h40'59,0"
4) Simon Losier - Brian Maxwell (Mitsubishi Lancer Evo.8) - 1h42'03,3"
5) Maxime Labrie - Robert Labrie (Subaru Impreza WRX) - 1h43'13,1"
6) Marc Bourassa - Daniel Paquette (Subaru Impreza WRX) - 1h44'01,3"
7) Jean-Sébastien Besner - Yvan Joyal (Mitsubishi Lancer Evo.8) - 1h45'26,6"
8) Martin Losier - Patrick Losier (Mitsubishi Lancer Evo.5) - 1h48'23,3"
9) Jeremy Norris - John Hall (Subaru Impreza RS) - 1h56'14,2"
10) Martin Bruneau - Anthony Bruneau (Subaru Impreza WRX) - 2h02'12,7"
"Top 6" results – Two-wheel drive:

1) Jeffrey Dowell - Emily Dowell (Mitsubishi) - 2h05'04,3" (
1st Production 2wd
)
2) Simon Vincent - Hubert Gaudreau (Toyota) - 2h06'30,4" (
1st Open 2wd
)
3) Paul Hartl - Chuck Storry (Volkswagen) - 2h07'13,4" (
2nd Open 2wd
)
4) Martin Walter - Ferdinand Trauttmansdorff (Nissan) - 2h07'57,2" (
3rd Open 2wd
)
5) Anthony Burden - Benjamin Nadeau (Volkswagen) - 2h09'14,4" (
4th Open 2wd
)
6) Éric Deschênes - Catherine Asselin (Toyota) - 2h20'08,6" (
2nd Production 2wd
)