Nine-time World Rally Champion, Frenchman Sebastien Loeb will be back behind the wheel of a rally car, for one event only.
Loeb will contest the Rallye du Var in a Citroen DS3 WRC, November 27-30. His codriver will not be Daniel Elena, but his wife, Severine.
The Loebs won the Rallye du Var together in 2009, and they ran it in 2008 in a Citroen C2 1600. In 2013, they contested the Rallye du Chablais in Switzerland.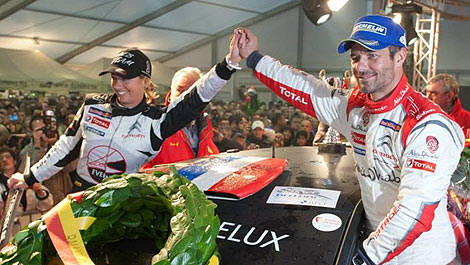 Sebastien and Severine Loeb, Citroën. (Photo: Citroën Racing)
"I'm pleased to have the opportunity to compete in the Rallye du Var with Severine," Loeb declared.
"This is not the first time we ride together and it's always nice to both be in the car to share, on the road, this passion that we have always had in common.
"I have not driven in rallying for a while and I am now fully focused on my WTCC programme.
"But this [rallying] is my first love, as they say.
"The Var is a great rally, with beautiful roads in an area I enjoy. So I look forward to being at the wheel."