From press release
Albatec Racing will pull out all the stops in Sunday's final two qualifying heats in World RX Of Sweden as it bids to take a semi final position with former F1 World Champion Jacques Villeneuve.
Jacques faces an uphill struggle after broken suspension sustained in a first lap incident caused a right front puncture to his two-litre, 16v Peugeot 208 in heat two, however the Indy 500 winner has vowed to give it everything he's got to net a fast overall heat win tomorrow in his attempt to qualify for round five of the FIA World Rallycross Championship at Höljes.


A solid run in the opening four-lap heat put the 1995 Indycar World Series Champion 15th fastest of the 38 runners and a great start to the second saw the French-Canadian challenging for the lead going into turn one.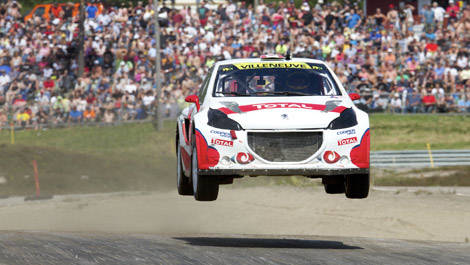 Jacques Villeneuve, Albatec Racing Peugeot 208 (Photo: Albatec Racing)
Running second, heavy contact with Andreas Bakkerud while looking to pass the Norwegian broke the Peugeot's suspension, however it was a few corners later that the compression strut broke, piercing the tire, and leaving Jacques to limp home in fifth.


The incident was particularly unfortunate as the heat, race six of eight, was the second fastest overall with heat winner Sebastian Ericksson's race time less than three seconds off the fastest time.
Had Jacques escaped damage in the early stages, his position would doubtless have elevated him up the order, and put the Lochfoot team in a stronger position ahead of tomorrow's two final qualifiers.


"It's going to be very tough to qualify (today) after (yesterday's) results however as always I'll give it my best shot," said Villeneuve.
"I'm not sure we're quick enough to win a heat outright, however if we can have two quick, and more importantly clean races then we stand half a chance."
Sunday's track action begins with an hour-long warm-up at 08.45, followed by two further heats, which get underway from 10.00 and 12.30. The semi finals and finals for support races are due to start at approximately 15.30. Additional event information is available at
www.rallycrossrx.com


.