From World RX
Former Formula One and Indycar champion Jacques Villeneuve returns to the FIA World Rallycross Championship this weekend at the wheel of his Albatec Racing Peugeot 208 Supercar.
The Canadian driver missed the previous two rounds in France and Germany due to prior commitments arranged before his World RX deal was completed before the season.
Villeneuve is yet to make the semi-final stages in his six World RX events this year. At his last event in Canada he was in the top six after two heats, only to retire after damaging his Peugeot 208.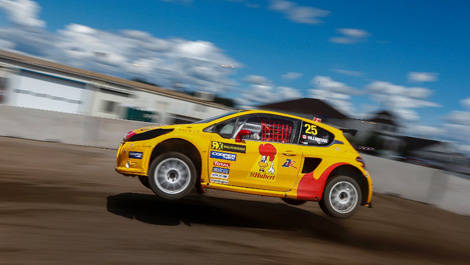 Villeneuve in Trois-Rivières (Photo: Albatec Racing)
"It's just been a frustrating first part of the year, at times we weren't quick enough and at others we've had some problems. I guess we've had everything happen to us already, so we should be alright this weekend," said Villeneuve, who has kept up with the team's performance in the last two races.
"I've been watching the results and the team looks to have made some good improvements so i'm looking forward to getting into the car. Most guys have been quick on the circuit based tracks.
"I don't think it's an issue for anyone to be quick here. There's one jump where you have to hit the brakes before it, so we just have to see how we get one.
"I want to get to the final obviously, but once again there are 40 cars and a lot of wildcards. If we can have four incident free races then we should be fine."