From press release
Round three of the FIA World Rallycross Championship sees former F1 World Champion Jacques Villeneuve reunited with Albatec Racing for World RX of Norway at Lånke, June 14-15.
Returning from an appearance at the Indy 500, where after a 19-year absence he averaged 230 m/h a lap to finish a very credible 14th, Jacques will rejoin Team Principal Andy Scott aboard one of the team's 600bhp, two-litre, 16v Peugeot 208 Supercars.
A frustrating start to his rallycross debut in the season-opening Montalegre round in April saw the former IndyCar champion's weekend not go entirely to plan, but with two days testing planned ahead of the Norwegian event, hopes are high of a strong result for the Canadian this weekend.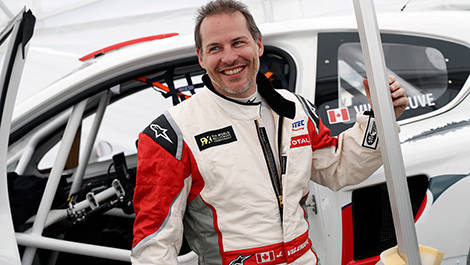 Jacques Villeneuve. (Photo: Albatec Racing)
"I'm very happy to be getting back into rallycross, but obviously hoping to have a better result than my first event," said Jacques Villeneuve.
"Coming here off the back of a good finish at Indy I'm feeling pretty confident and with the benefit now of one rallycross event already completed, will certainly be hoping for an improvement in Norway. It's encouraging for the team to have qualified for two successive semi finals with Andy, and hopefully the developments they've done will allow me to challenge for a strong result."