From press release
Mattias Ekström celebrated his first victory in the FIA World Rallycross Championship (World RX) with his team EKS.
At his home event in Höljes, the Swede beat the two Norwegians Andreas Bakkerud and Petter Solberg and, in doing so, celebrated the much cheered premiere victory in the Audi S1 EKS RX in only the third start for his team, which was established at the start of the season.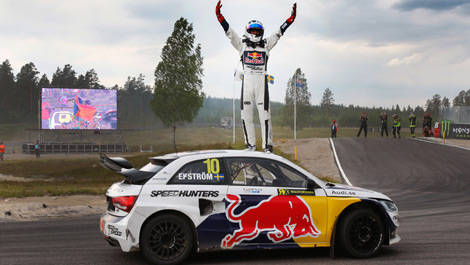 Mattias Ekström, Audi S1 EKS RX (Photo: Audi)
In front of a record crowd of more than 34,000 spectators, Ekström won three of his four preliminary heats and also the semi-final.
Teammate Pontus Tidemand also made the penultimate round for the first time, but narrowly missed as fourth place finisher the finale for the best six drivers.