My race fan buddies spend most of their time glued to their HD TVs and home entertainment systems these days. The NASCAR Sprint Cup season has started up again, and the entire 2012 motorsports season promises to be a thrilling one.
Things are heating up in
NASCAR
, for instance. The "Jimmie Johnson Show" is over, folks! After the Las Vegas race, we were treated to some fairly exciting events and four different winners in six races. Just 25 little points separate the top seven drivers in the Sprint Cup standings. Now that's what I'm talkin' 'bout!
The IndyCar series is about to kick off as well. The spec car is a thing of the past. This year, Honda, Chevrolet and Lotus will fight it out on the track, which means a decent variety of chassis/engine combos.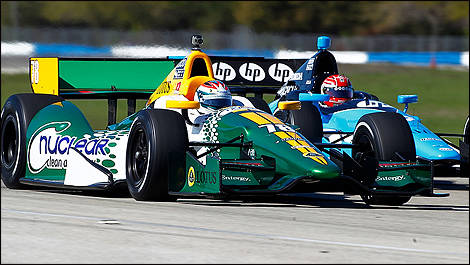 Photo: LAT for IndyCar
But the new Dallara DW12 IndyCars are, in a word, hideous. They've got a pointy nose and a fat arse, courtesy of wraparound side pods. I know it's in the name of safety, but the cars look downright lumpish. I'll just have to get used to them, I guess…
The Endurance World Championship is just around the corner as well, with the 12 Hours of Sebring set to kick things off. Several new cars will join the fray, including the already famous Audi R18 e-tron quattro hybrids. The Toyota TS030s, also hybrids, will arrive later this season as well. The 24 Hours of Le Mans in June should be riveting despite Peugeot's last-minute withdrawal.
And let's not forget the Formula 1 season opener. Will anyone manage to beat Sebastian Vettel with any regularity? I like the German kid a lot, but he's dominating F1 like nobody's business. It's not good for the show or the ratings
Let's hope McLaren, Ferrari, and – why not – Lotus manage to surprise us, and from the first race too.
Encouragingly, Lotus drivers Kimi Räikkönen and Romain Grosjean set the pace during the winter trials. What an incredible fairy tale ending if Räikkönen manages to secure the F1 title after two years on the rally circuit!
Speaking of rallies, it seems there's been a changing of the guard. Sebastien Loeb is no longer calling the shots, and Citroën is being hounded by Ford.
I think we've got a fantastic season ahead of us, on all stages. Don't miss any of the action at Auto123.com Racing!