September is usually when teams in major racing series start looking at the next season, which often leads to new contracts for drivers, shocking transfers, and a number of big disappointments.
This year is no different. Talks are now picking up at a blistering pace after a particularly quiet summer at the rumour mill -- aside from the one that sent Kimi Räikkönen to Ferrari.
When that rumour began floating around, many of our Facebook friends criticized us for reporting hearsay. "Kimi will not return to Ferrari. He has yet to swallow his exit from the team in 2009" sums up the various comments.
As it turned out, delayed payments by Lotus and several key departures within the technical department led the taciturn Finn to pack his bags and hit the road to Maranello, with full intent to compete directly with Fernando Alonso in 2014.
Sure, Ferrari prematurely terminated his contract four years ago to make room for the more talented Spaniard and the millions of dollars from Santander Bank, but Räikkönen is not one to hold a grudge against people.
Other notable exits include Mark Webber leaving Formula 1 to become Porsche's official endurance driver including at the 24 Hours of Le Mans.
Felipe Massa was ousted by Ferrari in favour of Räikkönen. After a severe crash at the Hungaroring and the difficult years that followed, the Brazilian was no longer able to push his teammate to surpass himself.
Lastly, we learned that former F1 driver Juan Pablo Montoya is kissing Ganassi Racing and NASCAR's Sprint Cup goodbye to join Roger Penske and his IndyCar team.
Montoya was originally hired by Chip Ganassi, and supported by series executives to boost interest among Latin-American fans. However, his 7-year stint in NASCAR will not exactly go down in history: just two wins, none of which took place on an oval speedway. A big bummer.
So, the controversial Colombian goes back to IndyCar where he will face none other than Ganassi. Will Montoya duplicate his past success and find a way to win the Indy 500 for a second time? That will definitely be one of the stories to watch in 2014.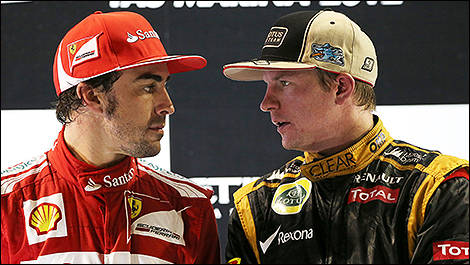 Fernando Alonso and Kimi Räikkönen (Photo: WRI2)