Tens of thousands of spectators turned up last weekend at the Canadian Tire Motorsport Park, formerly known as Mosport, in Ontario.
They travelled to the small town of Bowmanville to greet the arrival of NASCAR's Camping World Truck Series as part of the Chevrolet Silverado 250 race.
Interest from the spectators was big, since there was no NAPA 200 Nationwide race in Montreal this year. Furthermore, the Silverado 250 marked the first road course race for the truck series since Watkins Glen, in 2000.
The race went down to the wire, which happens to be in Turn 10 at CTMP, a quick right-hander that leads the field back onto the pit straight. As is often the case in high-stakes NASCAR competition, the fight for first place got rough and dirty.
It's obvious to whoever watches the replay that Chase Elliott, in second place before Turn 10, had no intention whatsoever of taking that last turn in the last lap. Then, leader Ty Dillon is under braking and even starting to turn when he's rammed on the right rear corner. Elliott is nowhere near Dillon until the two trucks collide.
I won't make any friends with what I'm about to say, but I need to get it out anyway: NASCAR is not a racing series anymore. It's a demolition derby for crying out loud because officials keep closing their eyes to the stunts drivers pull ever more often.
It's almost as bad as WWE fighting on TV.
You get that sense the show was scripted to grab the attention of the general audience. At the end of the race, journalists and cameramen even got a shot of driver Max Papis' girlfriend slapping him in the face.
I'm sorry, but in my book, that's not racing, that's Roman gladiator fighting from another age. I think it's appalling that NASCAR refused to take any action against Elliott. What are they bloody waiting for? Even on superspeedways, where Cup cars reach speeds upwards of 350 km/hr, drivers are no strangers to using their bumpers to get what they want.
Is NASCAR waiting for someone to die before doing anything?
As far as Dillon is concerned, he said on the record he'd get his revenge at the next race.
Sounds like NASCAR is becoming more and more like NHL ice hockey, where fights and dirty hits are common sights. When you think about it, why ban such violence? Fans love it! Sad for me then, because I don't see the point. I want real racing back.
Am I the only one?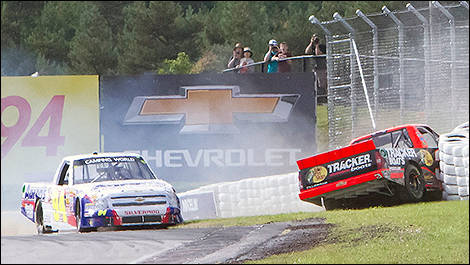 Photo: Philippe Champoux