Go back four years and picture yourself as the proud owner of a new 4-cylinder
2009 Toyota Venza
. After having painstakingly shopped and meticulously measured every aspect of each member in the midsize crossover segment, you made your choice.
Fast forward four years and the time has come to the replace your summer tires. The purchase of 17" winter tire and wheels was a big enough shock shortly after the purchase, but now the real trauma comes. The replacement cost of your P245/55R19 summer tires that slide over those gorgeous wheels that caught your attention four years ago is pricey as hell.
As a careful consumer, you are conscientious of the price/quality quotient and are not prepared to sacrifice performance and safety to save a few dollars. Time spent searching for pricing on the internet and on the phone reveals that a midrange tire costs between $250 and $275. Multiplied by four, plus taxes and installation, the grand total hovers in the vicinity of $1,250. Ouch.
Never saw that coming, did you? It's a good thing you did not spring for the V6 as its standard wheels are 20" in diameter; they retail for roughly $30 more a piece.
What's one to do to avoid this? Nothing really except bend down in the showroom and take a close look at the wheels and tires to see the sizes. Alternatively, pick up and carefully study the car's specifications. Even so, you'll find that 18" are a very common sight these days.
In the past, vehicles that were shod with 17" or 18" were all about performance and styling, and tire costs (back then) were astronomical. Today, 17" wheels are standard on most midsize vehicles and because of this volume, tires these sizes have become "affordable."
The story will most likely play out in much the same way for those, like yours truly, with 19" tires on their vehicles. 18" tires are a dime a dozen or there about so 19" will become more attainable. If you've got 22s on your ride, better luck in the next decade.
One thing to always consider is that the cost of making tires is constantly on the rise. We may never get away with inexpensive tires again…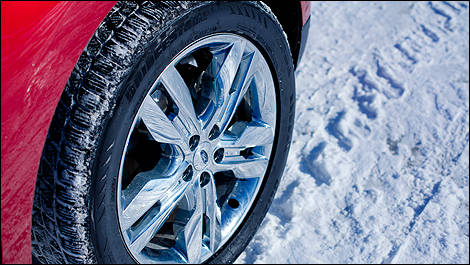 Photo: Sébastien D'Amour