Genuine Italian pasta is usually delicious. However, since the beginning of the 2013 Formula 1 season it seems that Pirelli has over-spiced Grand Prix racing, which now has a bitter taste.
Yes, I agree that today's F1 races are no longer processions of cars where the pole position holder -- usually sitting behind the wheel of a Red Bull -- drives away to an easy, totally unchallenged victory.
However, we are watching races that resemble a lottery and not real automobile racing. By wanting to spice up the on-track action, the deciders have gone way too far.
"Place your bets, please!"
The most frustrating aspect of today's style of F1 racing does not come from the unpredictability of the races, but from watching the most sophisticated machines being driven at just 70% of their possibilities throughout the entire race.
There's nothing exciting about seeing drivers forced to drive at a slow pace so as not to destroy their tires. That's a real concern.
Let's review what happened during last Sunday's Spanish Grand Prix:
Nico Rosberg planted his Mercedes-AMG W04 on pole position with a time of 1m20.718. The fastest lap of the race came from Sauber rookie driver, Esteban Gutierrez, with a time of 1m26.217 -- six seconds slower than Rosberg's pole time. And what about Nico during the race? His fastest lap was a 1m27.591, a staggering seven seconds slower than his qualifying time !
In comparison, Marcus Ericsson captured pole position for the GP2 series' race in 1m28.706. GP2 is a development series for future F1 drivers.
By wanting to improve the show,
Pirelli has gone much too far and produced a tire which self-destroys in a handful of laps
. We're also seeing a high number of tires that delaminate, a problem that could lead to terrifying accidents in high-speed corners.
Fernando Alonso, winner of the Grand Prix of Spain, made four pit stops to change his tires during the race. The Spaniard, therefore, used five sets of tires to cover a 300km distance, meaning each tire was only able to last 60km -- not great.
There are so many pit stops during a race that only race engineers and strategist -- not the fans -- can really understand what's going on. There's no real confrontation out on the race track because each driver is asked to follow a pre-established game plan, and not to fight with his rivals.
The drivers are completely lost and now have to ask their respective teams by radio: "Should I race this guy or not?" Or, "Sorry, I cannot drive any slower than this…" The deciders have to react, quickly.
Earlier this week, it was announced that Pirelli will bring updated tires to the Canadian Grand Prix in Montreal. Finally.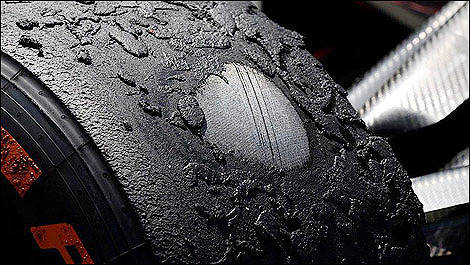 Photo: McLaren F1 Team