Following an interview with Rolls-Royce CEO Torsten Müller-Ötvös,
Car and Driver
reports that the Rolls-Royce 102EX concept, which debuted in Geneva last year, will not reach production.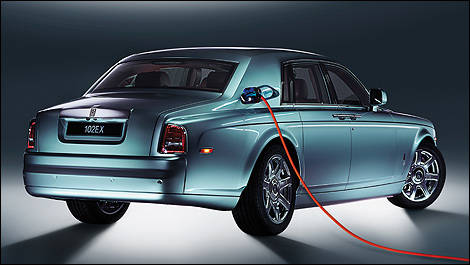 Rolls-Royce 102EX concept (Photo: Rolls-Royce)
More than 500 potential customers were given the chance to try it out, and "the results were ambivalent," according to the CEO. While acceleration and silent operation were hits, charging time and range were deemed unacceptable.
Müller-Ötvös said that while a plug-in hybrid could work, but would involve entirely different technology from the concept car.
He told the magazine they would embark on making the Ghost incrementally more dynamic and hinted at coupe and convertible variants, but ruled out an SUV, à la Bentley, saying, "Rolls-Royce stands for the best sedans in the world, and we really would like to retain this identity. I have a difficult time imagining an SUV for our brand." He also dismissed launching a car positioned below the Ghost.
Source:
Car and Driver