Things have been going well for Rolls-Royce since the British cult brand was snapped up by the BMW Group. Putting the brand's rich and nearly infinite tradition to good use, the engineers are gearing up to present yet another new concept at the Geneva Show, the 200EX sedan.
The new car, of which the production model should be unveiled next year, remains true to the Rolls-Royce heritage. Quite capacious, but nonetheless more discrete than the Phantom, the 200EX Concept is largely derived from the new 2010 BMW 7 Series.
Judging from the last two concepts put forth by the automaker, the 100EX and 101EX, this latest prototype is just a few minor details short of a production model. The philosophy behind its creation was to make the 200EX more of a people's car. While maintaining Rolls-Royce's signature style, the 200EX sedan is much less flashy than the brand's other models.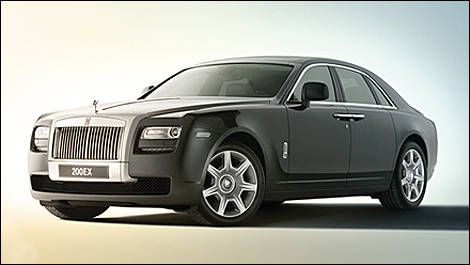 Rolls-Royce 200EX concept

The logic at work is simple. 2008 was Rolls-Royce's best sales year on record, and with the success of the
Bentley Continental Flying Spur
the market for full-size luxury sedans is booming. Rolls-Royce is now aiming for the $200,000 to $300,000 market, which is around half the price of the great
Phantom
.
The 200EX Concept is powered by a new V12, the output of which is still unknown. It features suicide doors, 20-inch wheels and the brand's new design language embodied by the brushed aluminum grille. Rolls-Royce already plans to extend the 200EX lineup (name to be determined) with convertible and coupe variants over the next few years.
The concept will be unveiled on March 3, 2009, at the Geneva International Auto Show in Switzerland.
photo:
Rolls-Royce