History/Description:
The latest complete generation of the
Saab 9-5
was available to Canadian shoppers from model years 2006, 2007, 2008 and 2009, at a point where the automaker was, yet again, undergoing turmoil and uncertainty regarding their future.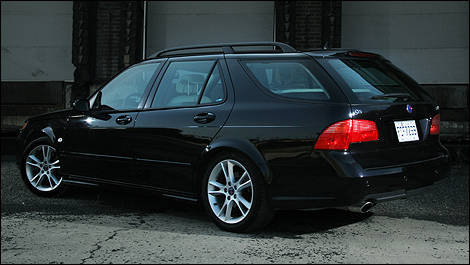 2006 Saab 9-5 (Photo: Philippe Champoux/Auto123.com)
Available in wagon (SportCombi) and sedan configurations, the less-than-popular model benefitted from a loyal but nichey owners' community which bought the machine largely for its distinctive character, refinement and exclusivity. This isn't a car you'll see every day.
All models from 2006 to 2009 got a turbocharged 2.3-litre, 4-cylinder engine with 260 horsepower, and a 5-speed stick was standard. A 5-speed automatic could also be had. Look for a list of premium features that helped the 9-5 compete with models like the BMW 5 Series, Acura TL and Mercedes-Benz E-Class. In the used upscale sedan market, a 9-5 should prove a unique alternative for shoppers after something a little less conventional than the more hotly selling models.

What Owners Like:
Styling, gas mileage, refinement, ride quality, spaciousness, handling and a nice cockpit layout are highly rated by 9-5 owners taking to the internet to share their experiences. Comfort levels, a long list of standard equipment and overall performance are also raved about. Many online 9-5 drivers have numerous positive things to say about their rides.

What Owners Dislike:
Complaints tend to centre around rattles as the vehicle ages, a lack of cupholders and a 'cheap' feel to some parts of the vehicle, including the doors. Easily marked plastic surfaces within the cabin are also noted.
Common Issues With A Used Saab 9-5:
Before a test drive, pop the hood and check the condition of the 9-5's engine oil. Numerous owners have reported engine failure as a result of oil sludge – a problem which could be amplified if the factory oil-change schedule wasn't adhered to.
Using a high-quality oil and changing it well within the factory-recommended intervals will prolong engine life. Apparently, Saab created an upgraded Positive Crankcase Ventilation (PCV) valve to help with the sludge problem. Be sure the seller was a fan of frequent, high-quality oil changes. Opt for a model with some of GM's 160,000-kilometre powertrain warranty remaining where possible, for extra peace of mind.
2006 Saab 9-5 (Photo: Philippe Champoux/Auto123.com)