History/Description:
The Outback was Subaru's crossover entry to the market occupied by machines like the
Honda CR-V
,
Toyota RAV4
and Ford Escape. A more car-like, wagon-oriented crossover, it existed alongside the 'truckier' Subaru Forester, offering up the utility of a station wagon, the ground clearance of a small SUV and the driving dynamics of a sedan.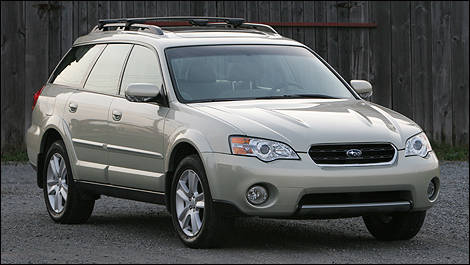 2007 Subaru Outback (Photo: Auto123.com)
The Outback was updated for 2010, and the 2005 to 2009 generation of this popular machine is now officially a member of the used crossover marketplace.
Look for a flexible interior with plenty of room for 4 adults and their gear, folding seats, a commanding driving position and all-wheel drive as standard on each and every model. Feature content including power leather seats, wood trim, a panoramic sunroof, premium audio and dual-zone climate control were available on higher-end models. Base, Touring, Limited, and Premier trim levels were available, depending on the year selected.
Under the hood, base Outback trims were equipped with a 2.5-litre boxer 4-cylinder engine making between 168 and 170 horsepower. A partial zero-emissions (PZEV) version of the 2.5L engine was also available in 2009. A turbocharged version of the 2.5L engine was available in XT models with 243 or 250 horsepower. Finally, a 3.0-litre flat-6 engine, also packing 245 or 250 horsepower, could be specified. Look for manual and automatic 5-speed transmissions, depending on the model selected.

What Owners Like:
Typically, Outback owners enjoy good fuel economy, steady and sure-footed traction in all conditions, a high-utility cabin and good ride quality. Headroom and outward visibility are also highly rated.
What Owners Dislike:
Typical complaints within the Outback owners' community deal with sluggish performance on four-cylinder, automatic-equipped models, as well as a tight rear seat, a 'cheap' interior feel, and soft handling.
Common Issues With A Used Subaru Outback:
As with most Subarus, reliability for the Outback looks solid. Have the turbocharger system checked for signs of wear on XT models, ensuring the vehicle doesn't smoke and hasn't got excessive oil deposits in the charge piping or intercooler, which could reference worn-out turbo seals. A Subaru mechanic can help with this inspection.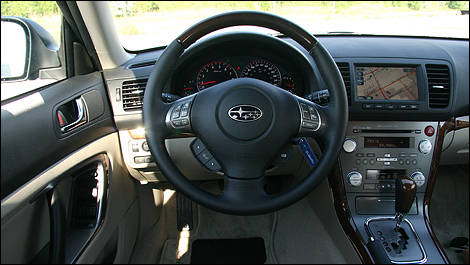 2008 Subaru Outback (Photo: Olivier Delorme/Auto123.com)