LAS VEGAS, Nevada
– Yesterday marked the first time I've ever set foot on the SEMA show floor. I was expecting something big and, truth be told, it proved even bigger than I could have ever imagined. This show is HUGE! Just to add some perspective: the entire exhibition area covers more than 1 million square feet... or roughly the equivalent of 18 American football fields!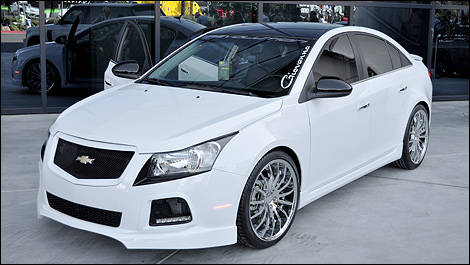 The Revolution Cruze in the Giovanna wheels display (Photo: Olivier Delorme/Auto123.com)
With about 3,000 stands and an even greater number of models (cars, that is), SEMA is any gearhead's paradise. Everywhere you look, something catches your attention, from an almighty Veyron to a fully-restored 1965 Mustang Fastback. Or even a Cruze.
My rookie day turned out to be pretty intense with numerous product launches from various manufacturers. Figuring out my way through the crowd and the commotion only made things more eventful – it's like a giant maze out there! After walking around for nearly eight hours, let's just say that I have a good idea of what the next few days will feel like.
Now that I know what to expect, and where to go, I should have an easier, more enjoyable time covering the show today.
And I'm off. Rest assured, I'll come back to you with loads of pictures. Check out our
complete coverage of the 2011 SEMA show on Auto123.com
.