Fuji Heavy Industries, the maker of Subaru automobiles, today announced that the new Justy will advance their presence in the subcompact European car market this fall. The small car will be built by Daihatsu Motor Company at their Ikeda plant in Osaka under an OEM manufacturing agreement. The agreement will see Subaru taking advantage of a business alliance with Toyota, which is the majority shareholder in Daihatsu.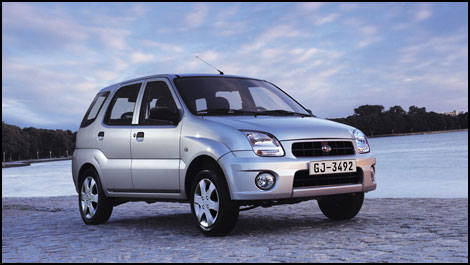 The 2004 G3X Justy 1.5L AWD Plus was only available in Europe.
The Justy was sold in Canada for a number of years in the 90's, and featured a unique electronically controlled CVT transmission and availability with two or four doors and front or four wheel drive.
The new European model comes in a time when demand for such vehicles is fierce, and Daihatsu is expected to deliver about 6,000 units per year to FHI for sale. Built off the same platform as the Diahtsu Boon, the Justy will feature streamlined and aerodynamic styling, convenience, utility and outstanding performance, Subaru says.
photo:
Subaru