A team of students at the University of New South Wales (UNSW) in Australia has recently set a new world speed record for an electric vehicle by maintaining an average of more than 100 km/h over a distance of 500 kilometres. The previous record of 73 km/h was established 26 years ago.
However, no definitive numbers can be issued until the record is officially approved by the FIA.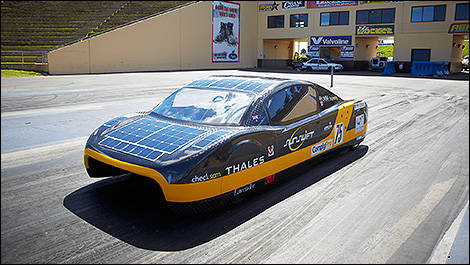 Photo: Sunswift
"As a racing driver you always want to be on the podium and it's not everyday you get to break a world record. I really enjoyed hanging out with the team and being part of history," said Garth Walden, one of the professional drivers involved in the world record attempt.
The students are from UNSW's Sunswift, Australia's top solar car racing team. Their vehicle, called "eVe," is the fifth to be built and raced since the team was founded in 1996.
Earlier versions of the Sunswift car have been used to set a world record for the fastest solar-powered road trip from Perth to Sydney, and a Guinness World Record for the fastest solar car.
Next step? Meeting Australia's road registration requirements within a year and proving the car is ready for day-to-day practical use.
Source : sunswift.com