The 40th anniversary of the CIAS promises to be quite the bash. As it is Canada's largest Auto Show, you can be sure that everyone and pretty much every new car available under the Canadian sun will grace the Metro Toronto Convention Centre's show floors.
The
Canadian International Auto Show
opens its doors to the public from February 15th to the 24th at the MTCC. If you're in the market for a new car or truck, a big car show such as an auto show is the best place to start looking.
This year, as with every other year, car makers come out in force displaying countless new models to gawk at, sit down in, and compare.
Performance cars are big this year. From simplest and smallest such as the 2014 Ford Fiesta ST to the talk of the industry, the new
2014 C7 Chevrolet Corvette
, all manners of sports cars will be on hand.
If you're a fan, here's a short list of must-sees: BMW M6 Gran Coupé, SRT Viper and Jaguar F-Type.
Luxury cars will also grace the show floor in droves. The likes of the BMW M6 Gran Coupé, BMW 7 Series Individual Limited Edition, Jaguar XFR-S, Maserati Quattroporte and Mercedes-Benz E-Class will all make their Canadian premiere at the CIAS.
2013 and 2014 will be big years for pickup and utility vehicles in general. 2013 Ram 3500 Heavy Duty,
2014 GMC Sierra
and Ford Transit are some of the latest additions to these ever growing segments.
Performance, luxury and trucks are nice and all but the always important family car shoppers will not be left hanging. The most noteworthy unveiling promises to be the North American premiere of the 2014 Kia Rondo. If a more CUV-like vehicle better fits your lifestyle, the all-new 2014 Mitsubishi Outlander will be worth a look.
Those looking to occasionally trade their green thumbs for green wheels will be well served by the ECODRIVE showcase exhibit which highlights a broad spectrum of fuel-efficient and fuel-alternative vehicles for today and tomorrow.
Let's not forget a slew of concept vehicles grace the stands of a number of manufacturers, including the Lexus LF-LC and LFCC Concept and the uber cool
NSX Concept
.
The Auto Exotica section is the icing on the cake. Once done shopping, the time has come to dream. And dream you will with the likes of the Ferrari F40, 599xx and the famed 333-SP race car. Other Italian supercars include the Alfa Romeo 8C Spider and Maserati-MC12.
The bottom line is that missing the 40th Anniversary of the Toronto Auto Show would be a big mistake.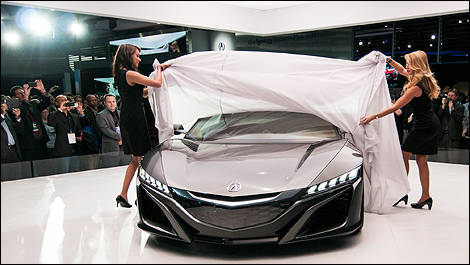 Photo: Nathan Leach Proffer