Having recently crossed over into the realm of parenthood, I've begun to look at the automotive industry and its extensive lineup of vehicles in a totally new light. Oh, sure I'm still obsessed with horsepower, how many gears it has, and if my press car comes equipped with satellite radio, but there's a new element I've now got to consider: Will a baby seat fit in the back?
My now 1 ½ year old son is my unofficial backseat driver in every test vehicle I bring home. From the
Porsche 911 Carrera 4S
to the
Honda Odyssey
, he's seen them all. Over the months I've come to realize something: You can make any car your family vehicle.
Men, women, rejoice: Having children doesn't relegate you to the realm of minivans and boring sedans. I promise you that. I'm here to lay a comforting hand on your shoulder and tell you it's all going to be OK, that yes you can still enjoy your daily commute while Junior throws Cheerios at the back of your head.
Now, of course, this dream fades a little farther away the more offspring you produce, but in the 1-2 child range the automotive world really is your oyster. So, let's get shucking.
I make it a point to put a baby seat in every single car I bring home. From the
Scion iQ
to the
Ford Explorer
, my son has been in them all. Some more comfortably than others, but he's been in them nonetheless. Why? Because I want to prove that its possible, that while I understand there are some limits, you don't have to sell your soul to be a parent and have a family.
I once spotted a 911 on the highway with two baby seats in the back. Two! I tried to give the guy a thumbs up, but never got the chance.
Sure, there are some great family haulers out there (the
Mazda5
and Dodge Caravan come to mind), but if owning a three-rowed people carrier is your absolute nightmare, fear not!
The beauty of today's vehicle market -- and by association baby-seat market -- is that there's something to fit every need and every family. You can, essentially, purchase a baby seat to fit your vehicle needs. Have a smaller back seat? No problem, companies like Evenflo and Safety 1st manufacture baby seats made for small, compact cars. Have a huge SUV and want the biggest baby seat there is? You won't have a problem finding one! Have a Porsche and want something specially designed for your vehicle? Porsche Design manufactures baby seats specifically to fit in their 911 models (they even have a stroller that fits in the "boot").
What I'm trying to get at here is that your automotive desires and needs do not have to be put on hold the moment you decide to start a family. Plus, there are some pretty hot wagons out there if you really do want/need more space. Just check out
Matt's Top 10 Station Wagon
list to see what I'm on about.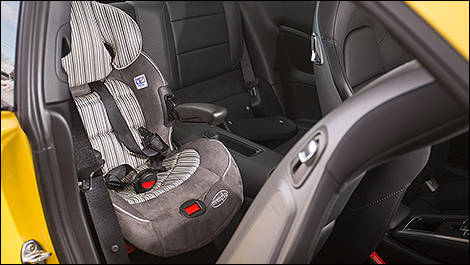 2013 Porsche Carrera 911 4S (Photo: Sébastien D'Amour)