With the demise of the Freestar minivan, Ford will unveil their new Flex Crossover minivan-replacement to members of the media at the New York auto show. In the near future, Ford plans to market a Lincoln version of the new Flex.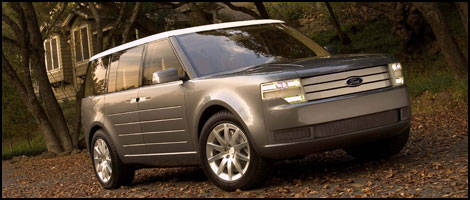 Ford Fairlane Concept
The Flex's cachet will be that it has as much interior volume as a minivan, has three rows of seats but looks nothing like a minivan. At the moment, there are no indicators as to what will motivate the Flex however we assume that Ford's 3.5L V6 will be the or one of the engines available.
The Flex arrives on the heels of GM's trio of non-minivan family vehicles (Saturn Outlook, GMC Acadia and Buick Enclave), Mazda's CX-9 and Chrysler's all-new Caravan and Town & Country.
Ford plans on selling upwards of 100,000 units as early as 2008.