The Pagani Zonda R set a new record at
Nürburgring's
Nordschleife (20.83 km) with a time of 6 minutes and 47 seconds, breaking the mark established a few months ago by another extreme supercar riding on a different set of tires than the Pirelli P Zero Slicks (265/645-19TL front, 325/705-20TL rear) of the Zonda R.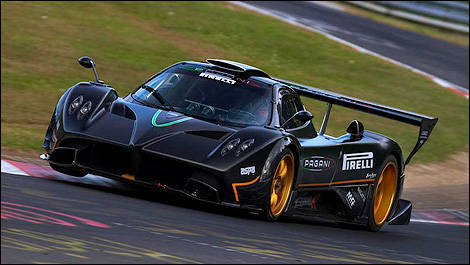 Photo: Pirelli
Leveraging Pirelli's unique expertise and technology in racing tire design, these slicks provide extraordinary grip on tarmac, allowing the entire 750 horsepower to be transferred to the ground. They were engineered by Pirelli in Milan exclusively for the Modena-built supercar.
The tire maker's innovative and patented "MIRS" manufacturing process covers the entire assembly, all the way to the finished product, with no power interruption or waste. Highlighting Pirelli's world-class excellence, MIRS is dedicated to the production of ultra-high-performance and competition tires.
Other factors which helped the car break the record include a 200-kg weight reduction from the standard, road-going Zonda R, a titanium-carbon chassis, lighter suspensions, a lower center of gravity, outstanding aerodynamics and significantly less inertia.