Here is our buying guide for summer and all-season tires for 2023 in Canada. Today, the best summer and all-season tires for trucks and larger SUVs.
See also: The Best Summer and All-Season Tires for Cars and Small SUVs in Canada in 2023.
See also: The Best Summer and All-Season Tires for Electric Cars in 2023.
First things first: just about everything we covered in our previous section on summer and all-season tires for cars and smaller SUVs can be applied to light-duty trucks. As for the choice of tires, except for a few tires specific to bigger and more-rugged pickup trucks and vans, almost all the tires featuring in our car section are available for light-duty trucks, and especially for SUVs.
However, if your vehicle is used for commercial or heavy-duty use, we suggest you visit a tire dealer who knows about those segments, especially when it comes to load standards. Note that many heavier-duty pickup tires have a load rating that must be met.
So, again, if you need (or want) to change tires, it's best to go with the same brand and model that came with the vehicle out of the factory.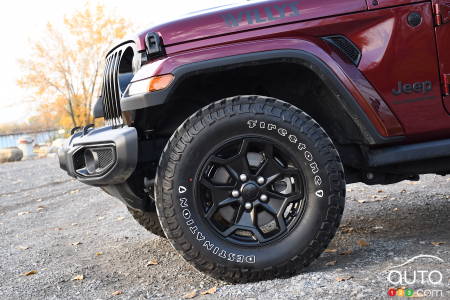 All-terrain
However, there is one type of tire that is more popular with fans of sportier trucks and SUVs. These are the "all-terrain" tires that are being fitted to more and more pickup trucks and are also suitable for highway travel.
This is the type of tire that will be found as original equipment (factory) on vehicles such as the Ford Bronco Sport, Jeep Wrangler and Gladiator, Toyota RAV4 Trail or Woodland, Chevrolet Colorado Trail Boss and many others.
Here's what you can find in the range of high-quality tires on the market.
BFGoodrich All-Terrain T/A K02
BFGoodrich is the "second" brand in the Michelin group, but when it comes to off-road tires for light-duty trucks, it's almost the first. In fact, its All-Terrain K02 model is one of the most recognized on the market and is also winter-rated. It is available for rims from 15 to 20 inches.