I'm driving a 2012 Jeep Wrangler Unlimited Sahara this week, painted pitch black and spiffed up with the MOPAR chrome package. It took me a few hours behind the wheel to remember one important aspect of owning a Jeep.
And I mean a "real" Jeep. You know, the
Wrangler
.
When you cross paths with another Wrangler, or TJ, or YJ, or CJ, you mustn't forget to salute. I apologize to the first 2-3 Jeep owners I didn't wave to during the first day of my week-long test.
As dumb or childish as it may seem, it's actually one of the perks of owning a Wrangler. You become part of the family, a bunch of people who understand why you bought a gas-swilling, cramped SUV that's as aerodynamic as a tool shed on the highway, and drives like one, too. Ok, the current-gen Wrangler has improved in that regard.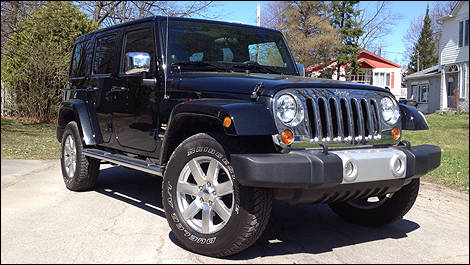 2012 Jeep Wrangler Unlimited Sahara (Photo: Michel Deslauriers/Auto123.com)
Being part of the Jeep family also means you'll get together and go off-roading as a group, which is fun. You'll share a common interest with other people and develop good friendships. You're likely to never feel lonely when owning a Jeep.
Whether you buy the base Sport trim or the rock-climbing Rubicon, it doesn't matter; there's no secret handshake to learn, and as long as you remember to wave at other Jeep owners, you'll be OK. You don't necessarily have to salute owners of other Jeep models, especially those driving sissy
Compass
and
Patriot
models.
Call it a cult, call it a religion, but I call it cool. I feel like a non-conformist at the helm of the Wrangler, and I'm lovin' it. I assume I'm not the only one; Wrangler sales in 2011 jumped by 41% compared to 2010. And in the first quarter of 2012, sales climbed by 56% compared to the same period in 2011. That's a lot of tool sheds on wheels.
Right now, I can't think of any other model – car or truck – that creates such a strong allegiance amongst its owners. A passion for the automobile brings people together, and when I see manufacturers working on cars that drive by themselves – and they will arrive on the market at some point – I'm afraid that passion could someday be doomed.