Rumours and stories about the demise of Volvo, its disappearance from the North American landscape, are sad fabrications born of the small minds of writers looking to make a name for themselves -- a bad one.
Volvo, which was purchased for $1.5 billion from Ford in 2010 by Zhejiang Geely Holding Group Co. Ltd, is on the road to reclaim it's name, reestablish its brand and, of course, sell many more cars in the process.
Here are the top details on the what, how, and where:
Geely has invested $11 billion in Volvo. Money is no issue for the Chinese giant.
$300 million of that investment went directly to the Skövde, Sweden engine plant.
A new Volvo assembly plant has been built in Chengdu, Sichuan province, China.
6- and 8-cylinder engines are no longer. Only 4-cylinder Drive-E (Drive efficient) engines will persist.
The 2.0L petrol turbo will offer outputs that vary from 140 horsepower to over 300.
The 2.0L diesel turbo is the other engine, and may make its way to North America in time.
A 2.0L petrol turbo hybrid is earmarked for North America. In fact, it is likely to come before the diesel.
Engine designations, T5 and T6, will remain but will refer to output and not cylinders. T5: 200-250 hp. T6: 250-300 hp. Diesels are referred to as D5, D6, and so on.
The T6 engines use an Eaton screw type supercharger on top of turbocharging to attain desired power numbers.
Both engines were designed to be fully modular. In other words, automatic and manual transmissions, as well as AWD, can easily be fitted.
Volvo is currently in the middle of the largest product refresh in its history. 2014 was for interior/exterior changes, and 2015 is all about powertrains.
The future begins now with the new V60. Other product launches will be made every 6 months starting with the imminent arrival of the next XC90, built on the new SPA (Scalable Platform Architecture), which will underpin all Volvo products save for the small cars.
It is highly probable that a new smaller Volvo will come to North America in the next few years. The V40 is a likely candidate, however, I predict the return of an S40 to match up with the likes of the A3 sedan.
Volvo expects to sell 800,000 units worldwide by 2020, including 200,000 sales in China.
In 2014, Volvo Canada expects to deliver 5,400 new cars, an 18% increase over 2013 (4,600) to go along with a 30% increase in their marketing budget.
It is plain to see that Volvo is here to stay. The introduction of new technologies, in connectivity and powertrains, demonstrates the will of the maker to increase its reach.
Volvo remains highly committed to safety, but this time around, it is part of the big picture and only one reason to consider one of their cars as your next purchase.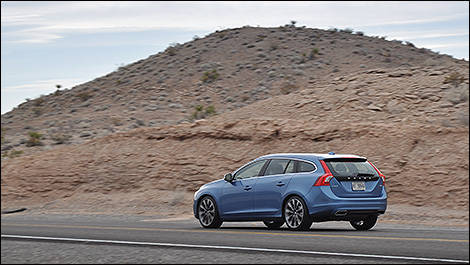 2015 Volvo V60 T5 (Photo: Mathieu St-Pierre)