Toyota is adding $2.1 billion to its investment in a battery plant for electric vehicles in North America. Among other things, this plant will supply Toyota's Georgetown, Kentucky complex, which will be the first to assemble an electric model for the automaker in North America.
Toyota may be a latecomer to the electrification race, but the recent shift in the company's top management is beginning to make itself felt. The company is in catch-up mode, and this latest announcement is more proof of that.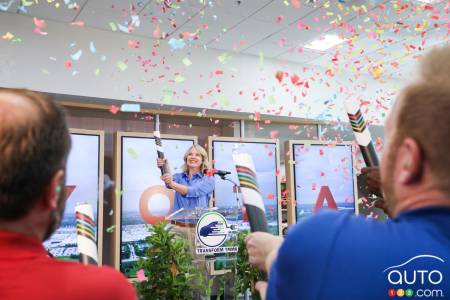 Toyota will invest an additional $2.1 billion USD in the battery plant currently under construction near Greensboro, North Carolina. Toyota's total commitment in the plant now stands at $5.9 billion.
The plant will supply batteries to Toyota's huge Georgetown complex in Kentucky. That facility will assemble Toyota's first electric vehicle to be built in the U.S., a new three-row SUV.
Note that for the time being, the new plan will not create any immediate new jobs at the Kentucky or North Carolina plants.
However, Toyota plans to employ 2,100 people in the battery plant, set to start production in 2025. The investment will help prepare the infrastructure for expansion. This will help the company reach its goal of selling 1.8 million electric or hybrid vehicles in the United States by 2030.
Toyota began construction of the plant in 2021.
The 9-million-sq-ft Kentucky complex currently employs 9,500 workers and handles assembly of the Camry sedan and RAV4 hybrid as well as several engines and other components. The company says jobs will be transferred to the new electric vehicle when production begins in 2025.
The North Carolina battery plant will feature six battery production lines - four for hybrid vehicles and two for batteries for all-electric models. The site near Greensboro is relatively close to many of Toyota's U.S. assembly plants in Missouri, Kentucky, Indiana, Alabama and Texas, which is certain to help reduce transportation costs.
For the moment, Toyota offers only one all-electric vehicle, the bZ4X SUV. We can expect to see a large number of new models arrive over the next few years.