With sales plunging 41% in the region since 2007, Toyota is taking a three-pronged approach to get back into the European game: a leaner executive suite, new models, and a new partner in BMW.
"It's unacceptable for Toyota to be at this volume level in Europe," said Didier Leroy, Toyota's European chief, in an interview with Bloomberg.com. Leroy said they had cut management layers to streamline decision-making over the past two years.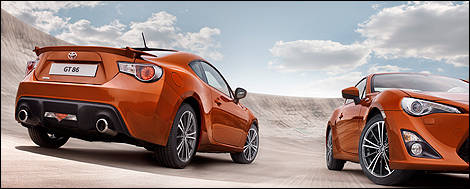 Photo: Toyota
Toyota will roll out a Yaris hybrid, Europe's first hybrid subcompact, and the GT86 sports coupe. Yaris production started in northern France earlier this week, following an investment of $33 million in the company's Valenciennes factory.
The GT86, geared to compete with VW's Scirocco and Peugeot Citroen's RCZ, gets up to 100 km/h in a hair over eight seconds. Toyota is targeting just 15,000 units of the sporty coupe; their overall goal for Europe, Russia, Turkey and Israel is a cool million next year, 20% higher than their 2012 target.
BMW starts delivering diesel engines to Toyota in 2014; diesels are less taxed than gasoline engines in many European countries.
Source: Bloomberg