New Production Facility to Open in 2008
After weeks of rumours and leaks, Toyota Canada held a press conference on June 30 at the site of its upcoming new
factory in Woodstock, Ontario
.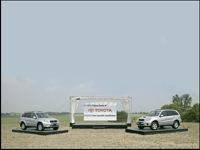 The future home of Toyota Motor Manufacturing Canada's (TMMC) satellite plant in Woodstock, Ontario will produce the RAV4. (Photo: Toyota Canada)
Toyota officially announced that it will be investing $800 million (CDN), to build a plant that will employ a workforce of 1,300 when operational, not to mention the thousands of construction jobs it will take to build the facility.
The plant is targeted as the sole worldwide production location of the RAV4 compact sport utility, projected to reach 100,000 units per year. Of course, with skyrocketing gas prices and ever-increasing demand for vehicles of a smaller variety in North America, the RAV4 is sure to gain even greater sales before the plant is even ready to take over production. At that time, Toyota will make the call to expand or keep some production in Japan.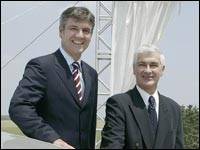 The Honourable Joe Cordiano, minister of economic development and trade and Ray Tanguay, president of Toyota Motor Manufacturing Canada (TMMC), standing at the future home of the RAV4. (Photo: Toyota Canada)
Toyota is no stranger to Ontario, with the Toyota Motor Manufacturing, Canada, Inc. (TMMC) having been a long-term resident in nearby Cambridge. The TMMC plant produces such Toyota luminaries as the Corolla and Matrix, but the true feather in TMMC's cap is that it occupies the only location anywhere in the world to produce Lexus vehicles (the RX 330) outside of Japan. In order to streamline operations, TMMC will manage the Woodstock plant, which is scheduled to begin production in 2008.
The Woodstock facility is the first car manufacturing plant to be built from scratch in Canada in 20 years. Securing this operation was an accomplishment for Toyota Canada, as well as for the Ontario provincial and federal government, that competed furiously with several American states to secure this gem. Ontario agreed to commit $70 million and the feds $55 million towards employee training and health care--oh wait, the province already takes care of health care, another bonus that Toyota won't have to worry about during contract negotiations with Buzz Hargrove and CAW.