"Let it unwind through the corner—use the whole track—now smooth into the throttle—stay to the right—parallel the wall—TURN NOW—head for the apex—full throttle—now toward the cone—brake hard—turn—apex—throttle—perfect!"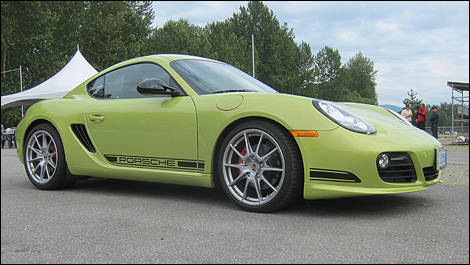 Photo: Rob Rothwell/Auto123.com
Those were the words of a refined Scottish gent that sat next to me in a
2012 Porsche Cayman R
as I did my best to impress him with my rudimentary racing skills. The track under siege of my Peridot Metallic, 330-horsepower German machine was the road course at Mission Raceway, just outside of Vancouver, BC.
Next to me togged in white slacks and a white golf shirt to match his snow-white hair was none other than Tony Morris Sr., a former race car driver of great renown and success. Tony arrived from Scotland in the 1970s to become a legend in the local racing scene. He developed a reputation for smoothness, both behind the wheel and in the world of tire sales and marketing, where his business acumen was second only to his driving skill.
These days, Tony keeps his hand in the world of motorsports by representing Porsche Motor Cars of North America. Tony's son, Tony Morris Jr., grew up immersed in his dad's passion for car racing and became a champion racer himself. He is now co-owner and president of Morrisport Advanced Driving Incorporated. (
www.morrisport.com
)
My day at the Mission Raceway was a cooperative arrangement between the two Tonys and Porsche Motor Cars in conjunction with Morrisport Advanced Driving.
The point of the day was two-fold: teach an old dog like me how to race a high-performance car on a road course (as if that could be done in a day!); and allow me the opportunity to experience the true capabilities of two outstanding Porsche products back-to-back without breaking the law or losing my right to drive. The stuff of dreams? You bet.
First, the cars. I mentioned the Cayman R; this is a dedicated performance version of the already highly capable
Cayman
and
Cayman S
. The 'R' is lighter, leaner and more powerful than its slightly more docile siblings are. It's equipped with true racing seats that hug a body more vigorously than a love-starved aunt. With a top track speed of 282 km/h, it's meant for competitive driving—really competitive driving.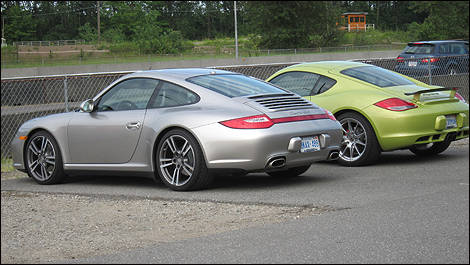 Photo: Rob Rothwell/Auto123.com