With no new agreement in place between the three major U.S. automakers and the UAW (United Automobile Workers) union representing workers, the current four-year contract expired at midnight.
Given the gap between the union's demands and the employer's offer, it seemed clear strike action was unavoidable.
The strike has been called, though for now it is primarily strategic. In a historic move, nearly 13,000 workers in three major assembly plants – on belonging to each of the Big Three - went on strike at the stroke of midnight. The first plants affected are in Michigan (Ford), Ohio (Stellantis) and Missouri (General Motors).
This is the first time that workers at the three major American automakers have gone on strike simultaneously.
The walkout will immediately halt production of profitable and highly popular vehicles inside the plants where the Ford Bronco, Jeep Wrangler and Chevrolet Colorado are produced. The move could have negative effects on suppliers, subcontractors, dealers and the economy in general in the weeks to come if the parties fail to reach an agreement.
UAW President Shawn Fain described the action as a "righteous fight" against the rich to secure better wages and benefits for the working class.
Among other demands, the union is asking for a 40-percent pay rise over four years (reduced to 36 percent). Negotiations have stalled in recent hours, this despite automakers increased their contract proposals to record levels, including increases of up to 20 percent.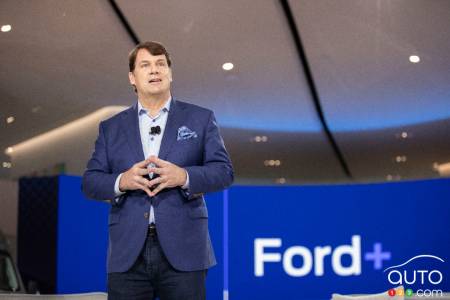 Ford CEO Jim Farley expressed his frustration earlier Thursday, saying that if the current union demands had been accepted in 2019, Ford would have gone bankrupt, with losses of $15 billion instead of the $30 billion in profits racked in over the past four years.
Under the leadership of Shawn Fain, who was elected in March in part on his promise to take a harder line with employers than his predecessors, the UAW has essentially stuck to the demands it made in early August.
The strike will last at least until the weekend. Fain said the union would not negotiate at all on Friday, and is planning a rally that day with US Senator Bernie Sanders (who sits as an Independent, representing Vermont) outside the UAW-Ford joint training centre in downtown Detroit Friday afternoon.
After one week, strikers will be entitled to $500 a week in compensation, funded from the union's $825 million strike fund.