Volkswagen's commercial vehicles division got its hands on the automaker's I.D. Buzz concept vehicle, and the result has just made its world debut in Hanover, Germany. The I.D. Buzz Cargo, intended for commercial buyers, is certainly interesting – and not just esthetically.
The concept version just unveiled can certainly swallow up a ton of cargo, but more importantly it has an electric range of 342 miles (or about 600 km) when equipped with a 111 kWh battery pack. This will certainly catch the interest of businesses with truck fleets that are on the road most of every day.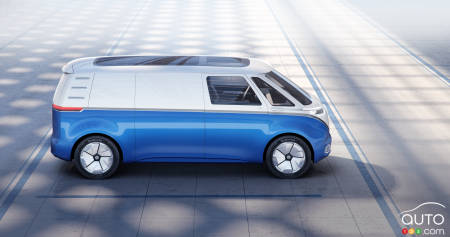 For those who would make "lighter" use of it, the small truck (or big van) can also be fitted with a 48-kWh battery pack; in this case we expect the range to be less than 300 km. On the other hand, this smaller set of batteries can be charged to 80% capacity in just 15 minutes with the proper equipment.
The larger battery pack allows the vehicle to supply 230 volts for use with power tools. Solar panels on the roof could also add another 16 km of range, especially appreciated on those occasions the owner may have neglected to plug in their I.D. Buzz.
The I.D. Buzz Cargo concept is still just that, a concept. But Volkswagen intends to bring a production model into being by 2021.