With their three new world premiers on their hands, the Volkswagen group must be teeming with excitement at this weeks Paris Motor Show.
A new crossover model called the CrossGolf merges the qualities of a small SUV with the versatility of a MPV (Multi Purpose Van) and represents a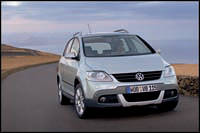 Volkswagen Cross Golf (Photo: Volkswagen)
new model for the German automaker. With the compact SUV scene becoming ever more popular, it's clear that VW is keenly interested in taking a piece of the growing market as their own.
The GolfPlus based machine is only available as a front wheel drive model and features a folding back seat, flip down tables, four doors and a large hatch. Although it's a crossover, with independent bumpers, heightened ground clearance and large wheels, the exterior look is decidedly SUV. Two gasoline and two diesel engines will be offered for the European release in November, with ABS, ESP, air conditioning and six airbags as standard equipment.
Climbing the luxury and capability ladder, the new Touareg was also unveiled to the public at the show. Scheduled for a November release, the luxury SUV features a host of redesigned parts and advanced features for performance, efficiency and safety both on the road and on the trail. The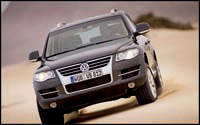 Volkswagen Touareg (Photo: Volkswagen)
look has been updated, and the powerplant option list has been expanded to include Volkswagens first FSI (Fuel Stratified Injection) V8 engine. A 4.2 litre mill with highly developed electronics, it generates a stout 350 horsepower.
Higher performance models benefit from Brembo brakes, while a second generation tire pressure monitoring system is available as well as various enhancements to the ESP system- one of which can help avoid unwanted movement from a trailer in tow.
Topped off with a multifunction information centre and high end Dynaudio sound system, the Touareg is likely to be a popular alternative to more expensive machines.
The new Touran represents an innovative approach to a practical van.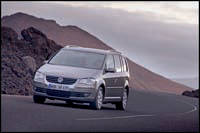 Volkswagen Touran (Photo: Volkswagen)
Now in its second generation, the Touran is the first Volkswagen to offer park assist, a feature that helps drivers to park easily, even where space is at a premium.
Exterior enhancements prelude the revised interior which features numerous modifications and an expanded list of standard equipment.
A unique 170 horsepower TSI engine is employed. Displacing only 1.4 litres, the unit boasts both a turbo and supercharger for excellent performance and efficiency. Power is routed through VW's DSG gearbox.
Autoshows are exciting venues for carmakers to show off their latest and greatest products and technology, and Volkswagen's exhibit is sure to create a buzz among their customers and competitors alike.