Today's market is filled with all kinds of vehicles to suit customer's various requirements. From SUVs to CUVs, cars and sportscars, the choices are endless.
However, manufacturers had yet to come up with a vehicle specifically for those who have genuine mobility issues. Until now.
For those who suffer from paralysis and have had to rely on customized minivans to move about these vans often don't have an abundance of space, and also look terrible.
Now, a new American company has arrived on the scene with a vehicle that was designed around the access ramp.
The company is VPG and their first product is called the MV-1.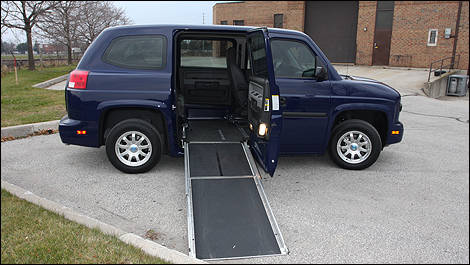 Photo: Nauman Farooq
This is a bespoke vehicle, built in Indiana at the old Hummer H2 factory, and has its own chassis and body; however, some bits and pieces have been taken from other manufacturers to complete the vehicle, such as its 4.6L V8 and 4-speed automatic from the old Ford Crown Victoria.
A proven drivetrain means it'll be reliable, which is important to any car buyer.
I was recently invited by MV-1 Canada to learn more about this vehicle and try it out for myself. At their dealership location in Concord, Ontario. I met up with Joel Dembe, who is their community outreach manager. Dembe, who uses a wheelchair himself, has not let his circumstances rule him. He is an accomplished athlete and played tennis for Team Canada at the Paralympics in 2012.
So, Dembe is the perfect person to demonstrate the features of this vehicle. Dembe was most keen to show me the ramp and how its length and angle is adjustable based on where the vehicle is parked. The ramp operates via switches located inside the vehicle and the door. It is extremely well built and can handle 1,200 lbs. When retracted, it hides away under the floor in its own compartment, away from the elements.
Step inside the vehicle and you'll find there is plenty of space for you to park any size of wheelchair, with plenty of snap points to buckle it down. To make it easy for a wheel-chaired driver, there is no front passenger seat in the VPG MV-1. However, in the rear there is a bench that can hold three.
So, it is practical, but how does it drive? I drove one on a short run to see how it performed. My tester came fully equipped with hand controls for braking and accelerating (which took a little getting used to), and also had a knob on the steering wheel for easy one-handed turning. I was very pleasantly surprised at how well this vehicle rides, and the V8 motor has plenty of power (248 hp, 294 lb-ft) on hand. Granted, this isn't a sporting automobile, but for a vehicle built for a practical purpose it is fun to drive.
The MV-1 has been on sale in Canada since the spring of 2012, and 120 units have since been delivered.
Base price is $45,900 and it can be serviced at any nationwide NAPA AutoPro shop under warranty.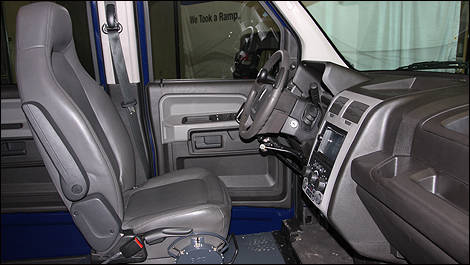 Photo: Nauman Farooq